Academic team holds 1st place after two rounds of competition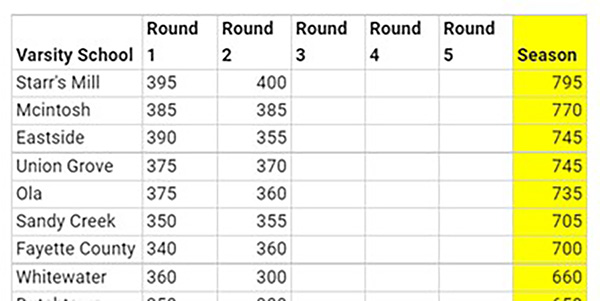 Starr's Mill academic team scored first place in their second round of virtual competition.
"Virtual is not as much fun as head-to-head competition with the buzzers, but is still surprisingly enjoyable all things considered," academic team coach Nancy Close said.
In the virtual format, each team answers 100 questions in an hour, one question at a time, and without the ability to retrace its steps. Teams use an online test platform with the team coaches present to prevent cheating. All schools have two weeks to submit their round, and the results are sent out after the deadline.
The winning varsity team includes sophomores McAlister Stanford, Alex Yang, Didi Stone, Ginger Swayne, juniors Tito Alofe, Nate Dahn, Micheal Lin, Elizabeth Jackson, Gabriel Melvin, and senior Lance Martin. 
Also placing first were freshmen junior varsity team members Zach Peavyhouse, Andrew Schmidt, Brian Hobmann, Ella Griswold, Avni Aligeti, Alliana Meier, Ansiba Bakaly, sophomores Tani Alofe, Juanchy Fritschy-Cartier, Tyler Gettinger, Rush Maples, Lucas Dee, Maggie Kluemper, Jordyn Clark, and junior Nia Thompson. 
The submission window for the next round of competition is November 8-19.   As a result of scheduling conflicts, Starr's Mill will submit their answers on November 17.