Opinion: Prom should be held as planned
Prom is being held in Atlanta this year, just like every other school year before. This has become almost a "tradition" at Starr's Mill. This decision should come as no surprise to any student. 
Even though moving prom closer would support local businesses, Starr's Mill students can take advantage of the close proximity to a major city, unlike many other schools. The location in Atlanta elevates the experience at prom unlike any venue in Peachtree City could, including the school parking lot.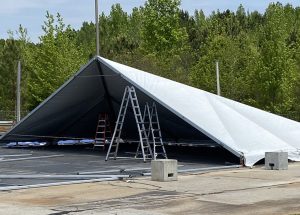 Even though parents and the student government worked hard to put together a "normal" prom last year, it did not satisfy many students' idea of a "normal prom." With COVID-19 restrictions affecting the past two senior class school years, the Class of 2022 feels we deserve to have a regular prom. 
Being an upperclassman comes with great responsibilities. If you are not mature enough to attend prom for one night in the city, then how can you mature enough to handle everyday situations? 
Driving to Atlanta has never been a safety concern prior to COVID, and it should not be now. Students at Starr's Mill usually congregate in large groups of 25-40 students alleviating prom fees for buses and dinner. These "luxuries" of prom do not have to be extravagant. It is up to student discretion regarding how much they spend. 
Prom is optional for students. If it becomes too expensive or parents are concerned about safety and affordability concerns, the students just do not have to attend. 
Some alternatives to make parents less stressed about cost and safety include:
Rent or buy used dresses and tuxedos. 

Do not go eat prior to prom to save some money.

Explore cheaper alternatives to the normal restaurants in the city.

Go in a large group to split costs. 

Parents can drive their students if they are concerned about it being in the city.
Every year if these problems have presented themselves they have always been figured out. None of the concerns are strong enough reasons to change prom's location this year or any year.
Leave a Comment