Opinion: More than just driving in circles
For those unfamiliar with the sport, NASCAR racing is a bunch of rednecks sitting around, drinking, and watching a collection of not-quite production cars race around in a circle at high speeds for hours on end. 
At first glance, one could not be blamed for such a conclusion. However, the true nature of the sport runs so much deeper than that.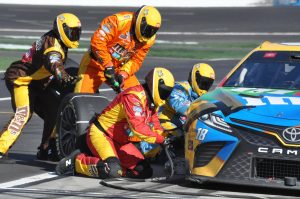 Having first-hand experience watching pit crews, technicians, and crew chiefs do their jobs on the track, the first thing that stands out is the teamwork at play here. 
Cars, careening into the pit area at upwards of 50-60 mph, refueling, changing tires or having body work adjusted all under 15 seconds shows just how much of a team sport it really is. 
Without the co-operation and chemistry, that pit stop might just cost the driver–and effectively the team–the race. It raises the tension and excitement, especially if a driver is stuck on pit road watching the competition zoom by.
Deciding when to pit can be a winning or a losing strategy. Stock cars do not have fuel gauges, much less speedometers. Math has to be done, and done right, to determine how long the cars can stay out, when they should pit, and what adjustments could be made to out run fellow racers. 
On track, the real show commences. Neck-breaking speeds of near 200 mph are reached in packs, with drivers vying for position, sometimes intentionally crashing each other out to take those positions and the checkered flag.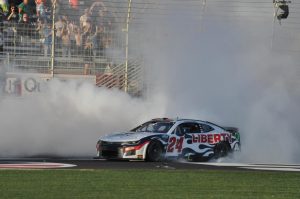 Even a short lapse in focus can generate massive, terrifying wrecks resulting in new race leaders, champions, and survivors able to navigate through the sliding, sometimes burning vehicles.
It is a drive of hardly withheld, barely contained chaotic energy, which is exactly what makes it exciting. A crash could happen at any moment. 
Drivers have to pour every ounce of resolve they have into keeping their foot on the pedal and ahead of the other drivers. If they do not do that, they might as well load it into the hauler and join the thousands of fans in the grandstands.
After considering all of that, or more hopefully watching it first hand, it should be understood that NASCAR very much has earned the fans it has, and should and will continue to earn more. Sometimes the going may get boring, with stretches of cars perpetually locked in place, but it is what might happen that keeps fans on their toes and coming back. 
In a sport that quite frequently asks then answers, "What's the worst that can happen?," what is your excuse for missing it?
NASCAR returns to Atlanta Motor Speedway in Hampton, Georgia, for the Quaker State 400 presented by Wal-Mart July 9-10. Visit the AMS website for ticket information.
Opinions expressed in editorials are those of the writer(s).  These views may not represent the adviser, The Prowler, advertisers/sponsors, the Starr's Mill High School administration or staff , or Fayette County Public Schools as a whole.  Please see our FAQs for more information pertaining to the rights of The Prowler's staff members.
Leave a Comment