"This is Halloween" by Adaleigh Weber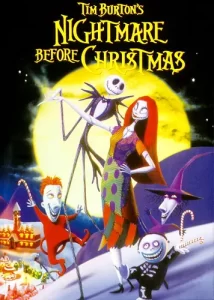 Boo! When Halloween comes around, oftentimes it begins the holiday season. It starts with Halloween and ends with Christmas. 
What better way to celebrate than by watching a spooky, memorable movie that combines the two? "Nightmare Before Christmas" is the best way to welcome in the holiday season.
Along with combining different holidays in one, "Nightmare Before Christmas" has a wider variety of characters in it and a memorable story overall. After watching this movie, you will never forget how Jack Skellington changed and saved Christmas, and the Sally and Jack Skellington duo. 
This movie is a classic for children to watch and rewatch all the way into adulthood. Who does not love a good Tim Burton movie? This is definitely a great one to start with. It has adventure, romance, and life lessons in it that are unforgettable. 
"
'Nightmare Before Christmas' is the best way to welcome in the holiday season."
— Editor Adaleigh Weber
In the film, the pumpkin king, Jack Skellington of Halloweentown, stumbles upon a world called Christmastown and falls in love with it. He decides he wants to control Christmas and kidnaps Santa Claus. When things take a turn and he realizes that Christmas was not meant for him, it is up to him to turn the holiday around for all of the families in the land.
There are cute, wholesome love moments in the movie that are included. Sally shows signs of affections toward Jack but he does not realize it until at the end when she is able to confess and he feels the same. It is a great way to end the movie. 
"Nightmare Before Christmas" teaches valuable life lessons such as embracing who you truly are, trying new things, embracing kindness, and never trying to be something you are not.
"I put a spell on you" by Katie Johnson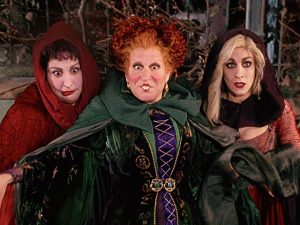 When you think of a Halloween movie scene the first thing that comes to mind is that one scene in "Hocus Pocus" when Winfred Sanderson starts singing "I put a spell on you." "Hocus Pocus" has been a staple of people's childhood for over three decades every Halloween, and that is not going to change anytime soon. 
The movie itself takes place in Salem, Massachusetts, where the legendary Salem Witch Trials took place. The three witches are hanged in the beginning of the movie back in 1693, after they sucked the soul of the Emily Binx and turned her older brother Thackery into a black cat on Halloween night.
Fast forward 300 years later where the audience meets Max and his little sister Dani and Allison, the girl of Max's dreams. They go into an abandoned house where he lights a black candle on a full moon causing the three Sanderson sisters to appear, ready to become immortal for life by drinking children's souls. In order to stop the Sanderson sisters then have to get an old spellbook before the sisters do. 
The first thing that makes this movie such a cult classic is how you can quote anything. This movie has hilarious quotes that you can relate to. For instance, when Bette Midler delivers a  deadpan response in the beginning of the movie, "Oh look, another glorious morning. Makes me sick." Or when Kathy Njimy says, "I smell children," when the only thing standing between her and the children is a counter. 
"
Sometimes you do not need to watch a scary movie to get into the Halloween spirit."
— Editor Katie Johnson
So many movies that revolve around Halloween are always a scary, creepy horror movie. Sometimes you do not need to watch a scary movie to get into the Halloween spirit. "Hocus Pocus" does share some eerie moments, but the rest are just knee-slapping comedy and funny jokes. 
The most important scene in the whole movie is when the Sanderson sisters break out into a pop song midway through the movie. 
It was just so spontaneous and made the whole movie worth seeing over and over. I cannot mention just "I put a spell on you" without mentioning Sarah Jessica Parker's "Come Little Children" song. Sarah sings that hauntingly beautiful lullaby to lead the children of Salem to the witch's house, so they can suck out their souls. 
So if you want to watch a not-so-scary but timeless Halloween movie with some singing thrown in, "Hocus Pocus" is the movie for you.