Worth the binge
Four Netflix shows to watch during shelter-in-place orders
Some of you, like me, may be saddened by multiple of our favorite television shows going on hiatus because of the Coronavirus. Thanks to online streaming platforms like Netflix though, watching new and entertaining content does not have to disappear as well.
Every month Netflix releases original shows ranging from thrillers to dramas that are compelling and fun, so for those needing something uplifting to watch I have created a list of four must-watch Netflix originals. These binge-worthy shows include "Nailed It!," "Rhythm + Flow," "Self Made," and "On My Block."
"Nailed It!"
This particular Netflix original is honestly the funniest reality baking show I have ever watched. Each episode of "Nailed It!" follows three inexperienced bakers in two separate challenges that put their skills to the test.
In this competition show, there are different themes that add special celebrity judges picked to go with them, and in the end one person walks away with a trophy and $10,000 to do whatever they want with. 
The best part of "Nailed It!" is how extremely funny it is, from the people all the way down to the trophy itself there will always be a lot of laughter. 
Seeing nonprofessional bakers try to complete professional tasks and failing most of the time is funny for some reason, and actually motivating sometimes. Especially with one of the main judges, Nicole Byers, making jokes throughout about the food and some of the competitors' baking skills there is no way someone can sit through an episode and laugh at least once.
"Rhythm + Flow"
Like "Nailed It!," "Rhythm + Flow," is another one of Netflix's reality competition shows. Hosted and judged by Cardi B, Chance the Rapper, and T.I., three of the biggest names in the rap industry today, this series is all about trying to find the next big rapper.
"
This Netflix reality show brings out so many laughs, and not because of the drama, but because of the personalities of the people in the competition and how they all interact with each other.
— A&E Editor Jordan Owens
Thirty amateur rappers are picked from four different cities, one of which is Atlanta, and go through six rounds involving freestyle and making a music video. With the last round being a solo performance in front of many other huge artists and agencies, the winner of "Rhythm + Flow," receives $250,000.
This Netflix reality show brings out so many laughs, and not because of the drama, but because of the personalities of the people in the competition and how they all interact with each other. The judges, mainly Cardi B, manage to poke fun at the competitors and each other as well making the show highly entertaining to watch. 
The main reason I love this show is that it really tears apart those stereotypes of people in the rap industry today and redefines the genre as a whole. "Rhythm + Flow" sets out to find great rappers all over the country and show that there is no one way for them to look.  
"Self Made"
Netflix's newest released limited series "Self Made" tells the life story of the first African American millionaire Madam C.J. Walker. The limited series starts before the thought of Madam Walker's million-dollar company to right at the peak of it. 
What is amazing about this limited series is that unlike some of the shows or movies about the people we hold to high standards, "Self Made" reveals all of the highs and lows of Madam Walker's life. 
In the first five minutes, the audience gets to see Walker's traumatic experience in life because of her hair that causes her to start making and selling her own hair products. While watching "Self Made" the audience also learns there is more to the story of how Madam C.J. Walker came to be the legend that she is now. Some parts involve rivalry, misconception, and heartbreak.
For many black and African American people, when you think of hair evolution the first person who pops up is Madam C.J. Walker. This extraordinary person has done so much for the community and has paved the way for many hair companies today. Her story and legacy of feeling comfortable with your hair have touched many people's lives, including mine.
Since this story is set in the years of the second industrialization, with names like Rockefeller and Carnegie, it is great to see the people of color who made a name for themselves, with what opportunities they had finally get recognized. 
"On My Block"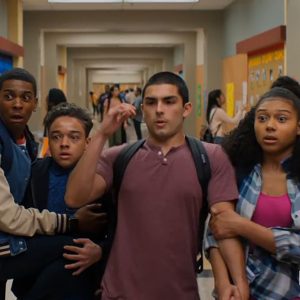 This Netflix original can only be described in one word: drama. "On My Block" follows four best friends just trying to get through high school. Yet when one of them gets jumped into a local gang, the entire group goes from trying to survive high school like normal teenagers to trying to survive period. 
As of March 11, this show has three seasons, each upping the antics as they go. 
The first really introduces the problem with Ceaser being in a gang. As the season continues the audience sees the lengths that Ceaser's friends will go to get him out. The second season picks up only weeks after, and it follows the repercussions of each character trying to get their friend out of the gang. Finally, the third examines the dynamics of this friendship and how they lean on each other with a new and more dangerous threat looming over their heads. 
Though this show is mostly filled with teens always going through some hard times, like any show meant for young people, there are equally as many funny moments to lighten the mood. Sometimes with an argument, gossiping around the lunch table, or them sneaking out of the house trying not to get caught, these scenes are what truly make this series special.   
On top of school, these four teenagers have to deal with gangs, loss, and many unexpected surprises.
"On My Block" is able to find a perfect balance between tension and comedy. 
These four series are all binge-worthy shows perfect to help bring smiles to anyone's face. 
Having platforms like Netflix reminds us that although everyone has to be physically separated during this COVID-19 outbreak does not mean we also have to decrease the amount of enjoyment in our lives or not maintain the bonds we form from watching shows like these.
Leave a Comment