Music festival bringing star-studded performances to Atlanta
Every year people all over Georgia come to Piedmont Park to listen to some of the biggest names in music. For first-timers, Music Midtown is a chance to experience Atlanta at its musical finest.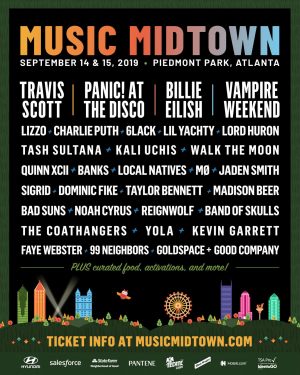 Music Midtown started in 1994, and after 25 years of the music festival, it has now become much more diverse in the type of music it provides the audience. As usual, this event is taking place on the second weekend of September, and headliners include Travis Scott, Panic! at the Disco, Billie Eilish, Vampire Weekend, and Cardi B.
Other artists that will be sharing the stage are LIZZO, Charlie Puth, Lil Yachty, Walk the Moon, Jaden Smith, Noah Cyrus, and many more. 
By adding Cardi B to the list of headliners last May, Music Midtown now has more headliners than they have had in years past. Right after LIZZO exits the stage Saturday night, Cardi B will give another one of her show-stopping performances.
After hearing "Bodak Yellow" by Cardi B about two years ago, like her other fans, I was obsessed with it. Then when she released her album "Invasion of Privacy," in 2018 I became obsessed with all of her music from thereon. Her songs were the first rap songs I truly liked. In each of the songs, you can hear her story and how she is not afraid to be herself. Whenever people said that she would not make it, she only grew in fame.
Cardi B makes sure her audience has a fantastic time, and if she at least includes "Get Up 10" or "Drip" I will be content. Some of her other songs I hope to hear are "Be Careful," "Money," "Press," and "I Like It."
Some other Saturday performances I cannot wait to see are LIZZO and Madison Beer.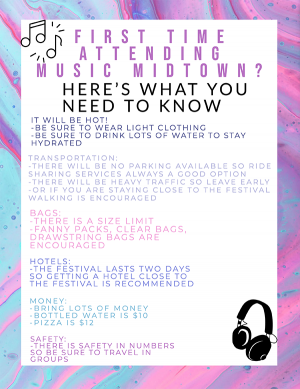 After the long day of concerts on Saturday, there is only about a 14-hour break before performances start back up on Sunday with Goldspace Company taking the stage at 12:30 p.m.  
Throughout the day many great acts are playing that aren't headliners. Some acts I am excited to see are Bad Suns, Cold War Kids, MØ, Leon Bridges, and Travis Scott. 
Artists rarely return because Music Midtown draws a variety year to year, but Billie Eilish is changing that. Though as popular as Eilish is, this is an act I doubt I will see because I already saw her last year. Sunday has a large variety I am looking forward to, but the main acts I look forward to are Bad Suns and Travis Scott.
Bad Suns is an alternative rock band that has been releasing music since 2012. I hope that they perform the songs "Daft Pretty Boys" and "Cardiac Arrest." I have been listening to them since the seventh grade so I am looking forward to this performance. 
Travis Scott is also performing on Sunday and I am ecstatic to see him. He released his album "ASTROWORLD" in late 2018. Songs from this album I hope he performs are "SICKO MODE," "YOSEMITE," and "BUTTERFLY EFFECT."  This will be the perfect close to the long weekend of other amazing performances since Travis Scott is the final performer along with Vampire Weekend who will play at the same time.
With it only being one week away, final preparations for Music Midtown have started, and everyone attending, including The Prowler staff, cannot wait for this music-filled weekend.
Leave a Comment