Latin boyband's newest single is anything but cliché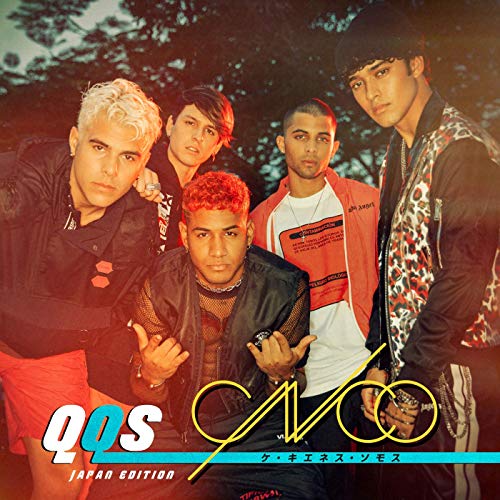 CNCO members Richard Camacho, Erick Brian Colón, Zabdiel De Jesús, Joel Pimentel, and Christopher Vélez released their latest single about a week ago and it has already left a tremendous staple for their brand.
For boybands being brought together on a competition show gives people the chance to criticize their music by saying it is cliché. CNCO, however, continues to prove people wrong, especially with their newest single "My Boo."
Do not let the title fool you. "My Boo" is not just another one of CNCO's Spanglish songs. This song is actually a combination of English, Japanese, and Spanish. The group makes the three languages blend so well together that the song flows like it is one language.
Like many generic boy bands, CNCO's story is not unique. Formed on a Latin American competition show called "La Banda," these five boys were brought together to become a musical phenomenon. As winners of "La Banda," the five guys of CNCO earned a five-year contract under Sony Music Latin.
Within a month of their formation at the end of 2015, CNCO hit the ground running by going on tour with the world-famous "King of Latin Pop," Ricky Martin. They then released their first single, "Devuélveme Mi Corazón," and their first album, "Primera Cita," in 2016.
Though CNCO reached their peak of fame with songs such as "Reggaetón Lento" and "Llegaste Tú," it was not until they released a remix of "Reggaetón Lento" featuring Little Mix in 2017 that this Latin boy band became known worldwide. 
"
This track is about a guy being in love with a girl and him not knowing what to do since he has not experienced a type of love this deep before."
— A&E Editor Jordan Owens
For the next two years, CNCO went on to release more Spanish and English mix songs like "Se Vuelve Loca," "Hey DJ," "Pretend," and "Me Necesita" for their newfound fanbase.
In "My Boo" CNCO speaks on the topic of love. This track is about a guy being in love with a girl and him not knowing what to do since he has not experienced a type of love this deep before.
I love the melodies and harmonies that these five artists bring to this song. Their voices blend so well together that I would listen to them harmonizing an entire length of a song.
Since this is the first time CNCO used Japanese in any of their songs, and with Joel Pimentel and Richard Camacho being the first ones in "My Boo" to speak it, there was pressure to not damage the language — they did not. Pimentel expresses enthusiasm and care as he sings, while Camacho presents a more mature voice. 
To me, these two boys had the second most important job for this song. They had to introduce the song to hook fans in order to keep listening. Pimentel and Camacho are able to create a great introduction and transition point for the rest of this track. 
The most important job then fell onto Zabdiel De Jesús and Christopher Vélez. 
Since they sing the chorus they both had to make sure their tone and speed are something that not only fans can sing along with, but also memorizable so those same people can sing it to themselves later without the music to back them up. The two boys flawlessly execute this part of the song with De Jesús' raspy voice that then leads into Vélez's soprano one.
Erick Brian Colón, who I believe has the most pop-like sound out of all the guys, sings his verses in Spanish and Japanese. With his verses, Colón ties the whole group together making their overall sound as unique as the song itself. 
With their widespread fanbase, CNCO is able to release songs like "My Boo" where fans are able to learn new languages while listening to their music. This creates a different sound than CNCO's usual reggaeton genre, and it is one that I believe will have them going to higher places in the music industry.