Twenty One Pilots releases single in preparation for new album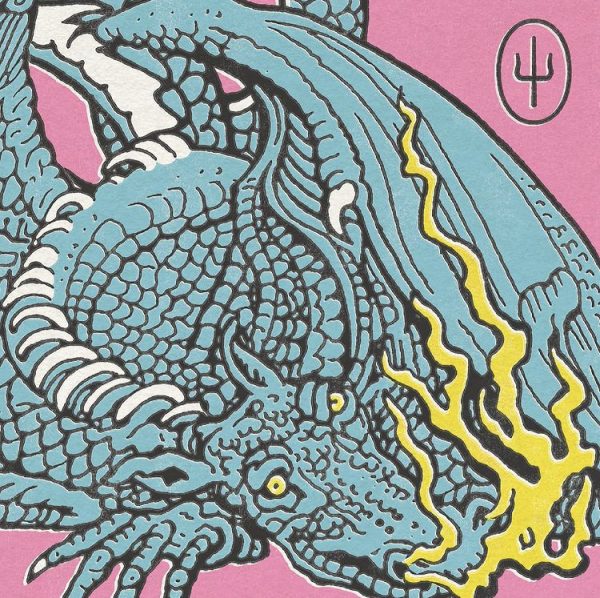 Generating hype and anticipation for the upcoming release of their sixth studio album "Scaled and Icy" on May 21, Twenty One Pilots released the single "Shy Away" last week.
Hailing from Columbus, Ohio, and containing just two members, Twenty One Pilots has increased in fame with every album released, while still staying humble and extremely close to their fans. Touching on themes of mental health, depression, anxiety, and even suicide, Tyler Joseph and Josh Dun have created a lasting effect on their audience.
With a reputation as lyrical geniuses and hiding truer meanings behind the face of their songs, Joseph and Dun have cleverly created a storyline hidden between the lyrics of "Shy Away," which is dedicated to Joseph's younger brother, Jay Joseph.
It was first created when Jay Joseph approached Tyler Joseph and asked what his process was to create a song. Joseph sat him down and showed him how he started a song, how he wrote a song, and how he recorded a song, which eventually produced "Shy Away."
The song begins with the mention of someone, that someone being Joseph's brother, shedding their modesty. In an interview with BBC Radio 1, Joseph mentions his brother and how difficult it was for him to "shed his modesty." Some also think it references back to Joseph's insecurities and how it's time for him to shed those.
In the chorus, referencing the title, Joseph sings, "don't you shy away, manifest a ceiling when you shy away." He's saying that he doesn't want people to "shy away" from themselves and their creativity. Instead, he encourages them to go out and find their purpose, whatever that purpose may be.
Joseph also warns against manifesting a ceiling because some people tend to put a limit or a "ceiling" on their ideas and never reach their true potential because of their fears. 
The whole chorus, as well as the bulk of the song, is pointed toward Jay Joseph. In the same interview with BBC Radio 1, Joseph said, "Lyrically, it kinda turned out to talk about being an older brother and how the only thing tougher than trying to figure out what your own purpose is, is watching someone whom you love, try to figure out their purpose." 
Using a second-person point of view in this verse, Joseph sings, "when you get home, you barely recognize the pictures they put in a frame." Some theorize that the "you" in the line references Jay Joseph again, stating that the person in the frame is Jay himself, and he is now seeing himself in a new light.
"
[S]ome people tend to put a limit or a 'ceiling' on their ideas and never reach their true potential because of their fears. "
— Staff Writer Joslyn Weber
Joseph then goes on to say, "Don't circle the track, just break the cycle in half and leave your skin on the floor." Many think the "skin" alludes to a legacy and how many artists and celebrities tend to worry about the legacy they leave behind. Instead, he wants them to escape from the standards of the music industry, and break the cycle to do the things they want to do for themselves.
Also featured on the track is Tyler Joseph's one-year-old daughter, Rosie Joseph. In the opening notes of the song, you can hear Rosie cooing in the background. Although it was unintentional at first, Joseph kept it because of how much it meant to him that she had been part of his creative process in creating "Shy Away."
Along with the introduction of Rosie, Joseph and Dun have brought in a new and upbeat sound that sounds a lot different from their most recent albums. However, the song seems to instead be reminiscent of their very first two albums, "Self Titled" and "Regional at Best."
Twenty One Pilots' platform is much deeper than just storylines hidden in their songs and songs meant to highlight Joseph's struggles with anxiety and depression. Beginning with their third studio album "Vessel," both Dun and Joseph have created an intricate story that has been told throughout their last three albums and will be continued with "Scaled and Icy." 
Long and complicated story short, Joseph created a character by the name of Clancy who lives in Dema, a fictitious place run by nine different bishops. Fans have found that "Scaled and Icy" is actually an anagram for "Clancy is dead," leading listeners to wonder what the new album and its anticipated music videos will bring.
Many of Twenty One Pilots' music videos, especially from the "Trench" album, are housed in Dema and give their audience explanations and even teasers about what will happen next within the Twenty One Pilots fanbase.
Bringing in inspiration from their first couple albums and adding a new and fresh sound, "Shy Away" is full of inspiration and positiveness, meant to highlight the importance of doing things for yourself. 
"Shy Away" is just a small taste of what Twenty One Pilots has in store for its audience with its upcoming album, as well as in the future.