Quick Hit with Michael Carrillo
"A Real Hero" by College and Electric Youth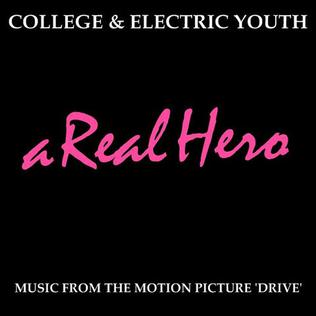 College and Electric Youth's "A Real Hero" is a song about being human, doing good things, and being recognized by others as a hero for it. 
The song opens with a growing beat that slowly gets louder and adds a synthwave to it. Then opens with lyrics, "Real human being, and a real hero." The song continues with the relatively same beat throughout, yet it is somehow brain-numbing. It gets you invested fast, due to the calming instrumentals and soft-spoken lead singer's voice. 
Featured most popularly in the movie "Drive" with Ryan Gosling, it would not be the same without it. The song, like many others in the movie's soundtrack, is an electro cyberpunk-esque song. 
The title of the song "A Real Hero" relates to the lyrics completely straight-forward. The song is about being a 'real human being and a real hero'. Using many examples of people doing extraordinary things, the artist relates back to the message of being a hero.
In the movie I first heard this in, Ryan Gosling's character, a relatively emotionless person, ends up being a hero to a single mother and her son. Their father, actor Oscar Issac's, character is in jail because of his gang-related crimes. Gosling begins taking care of them and being a stepfather to them. It plays again at the end of the movie after he has "proved to be a real human being."
Released in 2010, "A Real Hero" was part of College's debut album. This song has garnered 65 million views and is one of the most popular songs from the movie, "Drive." 
You can listen to "A Real Hero" by College and Electric Youth on YouTube and Spotify.