Quick Hit with Katie Johnson
"What a Feeling" by Irene Cara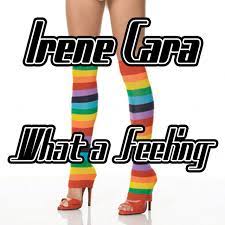 Looking for a song that gets you into the spirit of working hard then "What a Feeling" is just the song for you. The Song is about how a dancer feels while dancing. 
"What a Feeling" has a hard disco beat that helps the listener feel the energy and emotions of the story being told. The key of the song is a b flat major often used in music to get a great base line for each stanza of music.
"What a Feeling" was a song that was from the hit movie "Flashdance" in 1983. The two music composers wrote the song after watching the last scene where the main character performs in front of three judges. 
The writers felt that the dancer's ambition to succeed could act as a metaphor for achieving any dream a person has. They wrote lyrics that described what it feels like when music inspires someone to dance. 
The song is used for the scene they watched as well as during the opening credits as the main character is shown working as a welder.
Irene Cara and Keith Frosey co-wrote the piece while Cara is the solo singer for the piece. Giorigo Moulder composed the music for the movie. "What a Feeling" released two months before the movie premiered.
The song was a huge success earning an Academy Award and a Golden Globe for Best Original Song. Cara also won a Grammy For Best Female Pop Vocal Performance. 
Cara was already a huge success when she decided to help write and perform the song. Cara received her big break in 1980 in the role of Coco Hernandez, a student at the High School of Performing Arts, in the movie "Fame."
Cara would only release three studio albums in her career, "Anyone Can See" in 1982, "What a Feeling" in 1983, and "Carasmatic" in 1987.
You can listen to "What a Feeling" on Apple Music, Spotify, Pandora, YouTube Music, and more.