For truck's sake!
Weather cancels NGOTS qualifying, field set according to rulebook
Persistent mist at Atlanta Motor Speedway has everyone looking for a break in the weather in order to run today's NASCAR Gander Outdoors Truck Series race. For now, however, the scheduled 10:40 a.m. qualifying session has been canceled.
The starting lineup was set according to NASCAR's rulebook, using owner points following the end of the 2018 season.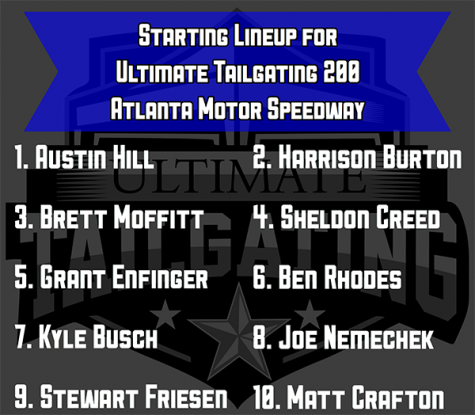 At yesterday's NGOTS practices rookie Sheldon Creed, pilot of the No. 2 AM Ortega/United Rentals Chevy for GMS Racing, put his name among possible favorites to take the checkered flag in this afternoon's race. He placed second in both practices, with an overall top speed of 177.334 mph and a best time of 31.263 seconds.
Stewart Friesen, in the No. 52 Halmar International Chevrolet for Halmar Friesen Racing, placed first in the initial practice, while Ben Rhodes, in the No. 99 Carolina Nut Ford for ThorSport Racing, placed first in the final practice.
Veteran Matt Crafton, driver of the No. 88 Rip It/Menards Ford, usually runs well in Atlanta, and he proved that with third and eighth place speeds in Friday's two practice sessions.
Georgia was represented well, as Korbin Forrester, driver of the No. 7 Tru Clear Chevrolet for All Out Motorsports, finished 27th and 24th in the first and second practices, respectively. Meanwhile, last week's winner Austin Hill, driver of the No. 16 United Rentals Toyota for Hattori Racing Enterprise, bounced back from a broken drive train in the first practice to finish sixth in the second practice. His top speed was 176.034 mph with a time of 31.494 seconds.
The Ultimate Tailgating 200 from Atlanta Motor Speedway is set to begin at 4:30 p.m. this afternoon. Watch it on FOX Sports 1.