Keselowski captures the flag
Mistake-free Folds of Honor QuikTrip 500 means second Atlanta win for No. 2
Weather and a new aero package kept teams and fans guessing all weekend long ahead of the Folds of Honor QuikTrip 500. However, when the checkered flag flew to end Sunday's 500-mile race at Atlanta Motor Speedway, one racing mantra held firm — a mistake-free race means a better finish.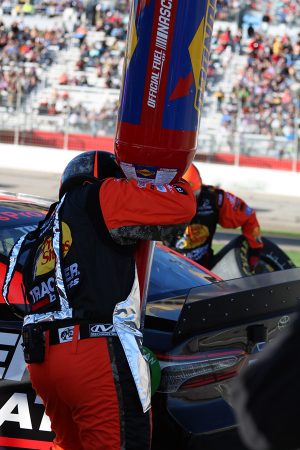 Brad Keselowski, driver of the No. 2 Autotrader Ford for Penske Racing, capitalized on this, earning his second career win in Atlanta despite battling the flu.
"A race car driver is who I am, what I do, and what I love," Keselowski said. "I'm not going to let anything get in the way of it."
Despite Kyle Larson, driver of the No. 42 McDonald's Chevy for Ganassi Racing, leading for 142 laps, it was Keselowski who came out on top while only leading 33 laps.
Right behind Keselowski was Martin Truex Jr. in the No. 19 Bass Pro Shops Toyota for Joe Gibbs Racing. He only led for four laps, but remained a constant presence in the top-five. In third was Kurt Busch, piloting the No. 1 ComSurv Chevrolet for Ganassi Racing. Busch led for one lap and spent most of the race shifting spots throughout the top-10.
Kevin Harvick, driving the No. 4 Busch Beer Ford for Stewart-Haas Racing, finished fourth and was second in laps led with 45. Clint Bowyer, in the Haas Automation Ford for Stewart-Haas Racing, came home fifth.
"I knew our car had great speed obviously from practice," Bowyer said. "Racing is a different beast, especially in Atlanta. You gotta take care of those Goodyears."
Larson, Aric Almirola, in the No. 10 for Stewart Haas, and Joey Logano, in the No. 22 Shell Pennzoil Ford, all struggled on pit road. Top spots then opened for drivers like Keselowski and Truex Jr., who ran clean races.
"I knew it would be difficult to get back to the front, but I didn't know it would be that hard," Larson said.  "[I'm] just really disappointed in myself."
Almirola jumped out to a lead as soon as the race started. Ricky Stenhouse Jr., driver of the No. 17 Little Hug Ford for Roush Fenway Racing, stayed in second, but slowly lost ground. Kyle Busch, in the No. 18 Snickers Creamy Toyota for Joe Gibbs Racing, used the opening stage to gain the ground he lost after starting at the tail end of the field due to a crash in final practice.
"
I knew it would be difficult to get back to the front, but I didn't know it would be that hard.
— Kyle Larson, driver of the No. 42 for Chip Ganassi Racing
There was a competition caution at lap 35 due to rain that moved through Sunday morning. Larson utilized a quick pit stop to jump up next to Almirola for the restart. Once the caution ended, Larson burst ahead of the rest of the pack. Harvick slowly moved up the scoring pylon, eventually finishing Stage 1 in second place.
There were three total leaders in the opening stage of the Folds of Honor QuikTrip 500. Larson led 48, all following the caution, Almirola led 36, and Stenhouse was credited with leading one lap.
While early pit stops benefited some, others did not fare so well.
After entering the pits in seventh, Logano was blocked in the pit box by Alex Bowman in the No. 88 Axalta Chevy for Hendrick Motorsports. He then had to start Stage 2 in 19th place. Almirola dominated the opening 35 laps, but fell to the middle of the pack by the beginning of Stage 2 after a speeding penalty during the break.
"We got behind in second and still felt like we were a second or third place car," Almirola said. "And then just, I made a terrible mistake getting on pit road and I was three-tenths of a mile an hour too fast."
Harvick jumped out into the lead to begin Stage 2 as the rest of the drivers battled behind Atlanta's defending winner. Ryan Blaney, driver of the No. 12 PPG Ford for Team Penske, fought into the top-five. Larson eventually tracked down Harvick and passed him on lap 110.
Despite quality practices and a good qualifying run, Dillon made no progress in the stage. Almirola struggled after receiving the penalty, and dropped back to 14th by the conclusion of Stage 2.
"
Despite a strong start, Stenhouse Jr. was caught speeding during the cycle of stops and had to serve a pass-thru penalty.
— Editor-in-Chief Rilee Stapleton
With 44 laps to go in Stage 2, the leaders hit pit road for green flag pit stops. Harvick retook the lead during the cycle, but once he pitted Larson claimed the top spot and stretched his lead to nearly two seconds. Kyle Busch failed to take a pit stop during green flag stops and fell to 15th place.
Despite a strong start, Stenhouse Jr. was caught speeding during the cycle of stops and had to serve a pass-thru penalty. We would not recover and finished the race one lap down in 18th position.
Larson and Harvick traded leads throughout the final 30 laps of the stage. With nine laps to go, Larson got loose and Harvick capitalized and ended up winning Stage 2 with Larson finishing in second place.
Truex, Blaney, and Denny Hamlin, driver of the No. 11 FedEx Toyota, watched the first place battle from third, fourth, and fifth, respectively.
At the stage's conclusion, Harvick was able to pit and restart in first place. There were no major changes in the top five spots as the third and final stage began.
"When you're out front, you have cleaner air, and you're way faster," Kyle Busch said. "When you're back in traffic, it's hard to come up through there and pass guys."
Larson led for the beginning part of the stage, but Kyle Busch used the high line to hunt him down. Kyle Busch began to fade late in the run, meanwhile Harvick refused to go away.
With 108 laps to go, Truex Jr. caught Larson as the leaders worked through lapped traffic, including lapping seven-time series champion and five-time Atlanta winner Jimmie Johnson a second time.
The leaders began stop in the pits on lap 220. Contact with the wall then blew the right rear tire for Kyle Busch, bringing out the caution.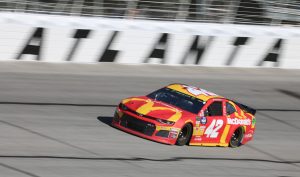 Larson appeared to restart with the lead, but a speeding penalty leaving pit road pushed him back to 16th, behind the lead lap cars.
"Dirty air was much worse than I thought it was," Larson said. "Once I got to the back, it was just really hard to find clean air."
Once the green flag pit stops concluded, Blaney captured his first lead of the race as Harvick reported tight conditions and fell back to fourth place.
With 90 laps left, rookies Ryan Preece, in the No. 47 Kroger Chevrolet JTG Daugherty Racing, and Daniel Hemric, driver of the No. 8 for Richard Childress racing, found themselves in the top-10.
Blaney managed to hold on to his lead, while Keselowski crept his way into third place. All three cars on Team Penske raced in the top five. Kyle Busch maneuvered his way back into 13th, but Larson failed to gain any ground after his penalty.  
With 52 laps left, multiple cars came to pit. Preece collided with BJ McLeod, behind the wheel of the No. 52 Trick Shot Chevy for Rick Ware Racing. This brought out the caution flag in the midst of green flag stops for the leaders.
The caution aided Logano, who had recently pitted before the caution. He was able to take over first place.
On the restart, Logano pulled away. Hemric crept into top-five. Blaney fell to 17th following a poor pit stop. Keselowski moved his way up to second with his teammate Logano, and the two battled for first until eventually Keselowski prevailed.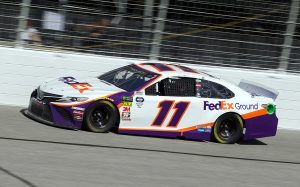 With 33 laps to go, Logano reported a loose wheel, leaving the battle for the checkered flag in the hands of Keselowski and Truex Jr.
Truex Jr. trailed Keselowski closely, but there weren't enough laps for him to catch up. Thus, Keselowski captured his second career win at Atlanta Motor Speedway and his first win of 2019.
"I saw [Truex] coming and with three to go I thought, 'Uh oh. I don't know if I'm going to be able to hold him off,'" Keselowski said. "I had gotten really, really tight off of Turn 2 and almost hit the wall. I was pushing as hard as I could. Another two or three laps and I don't know if I could have held him off."
Hamlin, last week's Daytona 500 winner, finished in 11th place. Larson, who led for nearly half of the race, finished in12th. Dawsonville, Georgia's Chase Elliott in the No. 9 NAPA Auto Parts Chevy finished 19th overall, third highest of Hendricks drivers. Blaney pitted late and finished 22nd, one spot ahead of Logano. Garrett Smithley, from Peachtree City, Georgia, spent a large chunk of time behind the wall. However, he was still running at the finish and ended in 36th place.
In the points standings, Hamlin now leads with 87 points, trailed by Harvick who is eight behind. Kyle Busch, Larson, and Logano round out the top-five.
MENCS drivers and teams now pack their bags and head west for next Sunday's Pennzoil 400 presented by Jiffy Lube. The green flag flies at 3:30 p.m. on March 3.
Leave a Comment