Wait until these Hawks leave the nest
This rebuild may hurt now, but it will be worth it
Just a few years ago, Atlanta Hawks fans were watching their team soar to a 60-22 record and the No. 1 seed in the Eastern Conference playoffs. The idea of a championship began to materialize in the minds of everyone in Atlanta. However, four games against a Cleveland Cavaliers team led by LeBron James in the Eastern Conference Finals was all it took to set the Hawks back.
Now 12-27, Atlanta sits among the worst teams in the league, and the fans aren't exactly loving the idea of rebuild.
For years, the Hawks were a successful franchise displaying consistency each year. They made the playoffs 10 straight seasons from 2008-2017, tied for the 11th longest streak in league history.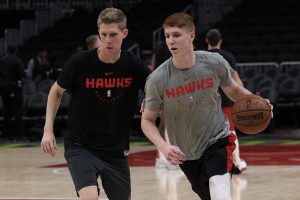 They aren't used to tanking and competing for the first overall pick, but these rebuilding years may prove to be worth it for this franchise.
"The excitement is there," head coach Lloyd Pierce said. "The excitement starts with the two rookies Trae [Young] and [Kevin Huerter]."
The Hawks have now completely hit the reset button. They hired a new head coach in Pierce and have a young roster. Without Vince Carter's 20 seasons factored in, the average number of seasons for each player on the team is 2.6. Every one of their current starters is yet to reach their 30's.
The young pieces on this team are starting to look similar to a current dynasty that went through this exact same rebuild.
This may sound crazy, but these young Hawks could be the next version of the Golden State Warriors.
"There is a lot to be excited about with the young guys," Pierce said. "We have two guys with less than two years of full experience that are starting."
The comparisons begin at the point guard position. In 2009, the Golden State Warriors selected Stephen Curry with the seventh overall pick. The following year, they finished the season with a 26-56 record.
"
This comparison is a no-brainer. Young has received Curry comparisons ever since he was draining 30-footers at Oklahoma."
— Editor-in-Chief Rilee Stapleton
Now look at the Hawks. They land the third pick in the 2018 NBA Draft, and traded it for the fifth pick in which they received Young. Like Curry, Young stood out with his three-point shooting and dynamic scoring, while they also have similar physical profiles. Also like Curry, Trae Young hasn't been winning many games for his team in his rookie season.
This comparison is a no-brainer. Young has received Curry comparisons ever since he was draining 30-footers at Oklahoma.
"[Young] went three for three from three [against Miami]," Pierce said. "That part of his game is starting to come back."
The Hawks also selected Maryland's Huerter in the first round of the 2018 Draft. Second among rookies in made three-pointers, Huerter is a knockdown shooter as well as a good defender and great off-ball cutter. Sound familiar? Think Klay Thompson, who the Warriors selected with the 11th pick in the 2011 NBA Draft.
While Thompson evolved into an elite three-and-d all star, Huerter may have a higher ceiling. At Maryland, Huerter was second on the team in assists as well as points. He displays advanced dribble moves for a player known as a shooter, and can also pass with either hand and possesses great vision. Against the Heat on Jan. 6, Huerter led the team with seven assists. Twenty-eight-year-old Thompson has a career high of eight assists. Huerter is 20 years old.
"What we're really excited about is [Huerter's] seven or eight assists tonight," Pierce said after Sunday's 24-point win over the Miami Heat. "He's that versatile as well."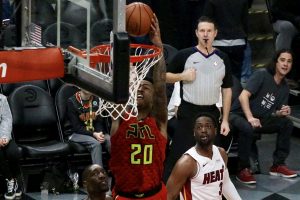 The next piece is Prince, who resembles Andre Iguodala, a smart, defensive-minded wing. In the 2015 NBA Finals, Iguodala earned Finals MVP for his defense on LeBron James. Prince has the potential to become a lockdown defensive wing like Iguodala, but he already has a better jumpshot and a developing offensive arsenal.
John Collins comes in as a bonus piece. The springy forward is averaging 18.3 points per game and 10.3 rebounds per game. Throughout the historic run Golden State is experiencing, they have never had a scoring threat down low. So if these other pieces reach their potential, Collins could push Atlanta to the next level.
"[Collins] had a quiet night tonight [against Miami] and he ends up with 13 [points] and 13 [rebounds]," Pierce said. "[The young guys] are starting and putting together wins and learning how to play together."
The most crucial piece of all of this for Atlanta comes next summer in the form of the 2019 NBA Draft. As of now, the Hawks have their own pick, which should be top five, and the Mavericks pick assuming they finish at the bottom of the lottery or right outside of it (the pick is top five protected). This is where they could find their equivalent to Kevin Durant.
Their pick could turn into any one of Duke forwards Zion Williamson, R.J. Barrett, or Cameron Reddish. Those three are all generational talents that can turn a franchise around. Williamson is a hyper athlete with impressive IQ for a teenager, Barrett displays a great shotmaking ability, and it's hard to point out a weakness in Reddish's game. Pair any of those three with a forward like french Sekou Doumbouya or Texas' center Jaxson Hayes, and Atlanta can break out a starting lineup with everyone under 25 years old.
The pieces are in place for Atlanta to become the next dynasty. While everyone drools over Luka Doncic step backs and DeAndre Ayton double-doubles, the Hawks are quietly building for a dominant future.
The shell is just starting to crack for these young guys, but once they learn to fly, Atlanta will be preying on the rest of the league.
Leave a Comment