Rico Frye passes Laskey to top two school records
Although he has only been in high school for less than a year and a half, sophomore running back Rico Frye is already leaving his mark in the school record books.
Frye broke Zach Laskey's single season rushing yards record with a run in the first quarter of the first state playoff game against Northside on Nov. 13 and later passed Laskey on the single season rushing touchdowns list later in the same game to top the school's list in both categories. The records, both from 2010, previously stood at 1,482 yards and 22 rushing touchdowns when Laskey helped the Panthers reach the state championship game.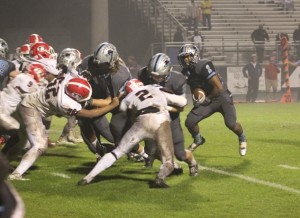 "Like always, I need to thank my lineman first and my running backs coach, coach [Burt] Waller," Frye said. "He taught me a bunch of stuff that I didn't know coming into high school. Coach Phillips and all the other coaches, too, the whole coaching staff. They all helped me. To be honest though, I can't even tell you what records I broke."
Frye finished the season with 1,697 yards on the ground and 24 rushing touchdowns on 197 carries. He ran for over 200 yards in a game five times, including the win against McIntosh on Oct. 9 when he broke the school record for most rushing yards in one game, which was also held by Laskey at 218 yards from 2010. He also tied the record for most rushing touchdowns in a game with four against McIntosh.
"Well, I don't know if we had much of an impact," Waller said. "A lot of it comes down to natural talent. All we try to do is get them to understand the scheme, what we're trying to get them to do, and how the blocking sets up to allow him to be successful. He struggled with that the first couple weeks, but as he got more comfortable with it, he got better and better at it. I think it was the first game against Dutchtown where he started going for 200 yards per game for  a few weeks."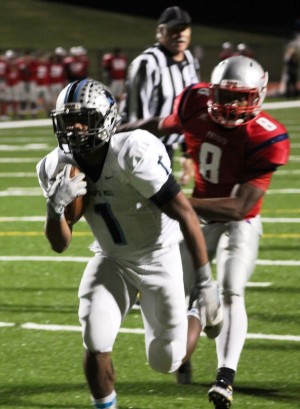 Frye struggled to get yards early in the season, running for 48 yards and two touchdowns against Whitewater in the season opener on Aug. 28 and 58 yards and one touchdown against Fayette County on Sep. 4. However, between the first game against Dutchtown on Sept. 11 and the game at Morrow on Oct. 16, Frye ran for 201, 198, 208, 238, and 202 yards with at least two rushing touchdowns in each game. Only two games ended in which Frye did not have a touchdown, one against Northgate on Oct. 30 and the other against Allatoona on Nov. 20. Both games were the only two losses of the season for the Panthers.
"I want to work harder and keep getting better," Frye said."Progressing as a player and a student off-the-field is important to me and I just need to work hard."
The records don't hold too much of a place in the season, however. With the team as successful as it was this season, the focus was on the team, not the individual.
"I actually didn't know [he broke the record] until you told me," head coach Chad Phillips said. "He works so hard and Rico is really maturing as far as being a team player. He's the first one to congratulate the team when he's not out there, whether it be offense or defense, and he's really just becoming an unselfish player."
Frye's words agree with coach. It's not about what the stats say about the individual; it's about how the player can benefit the team in all areas.
"I have to step up and fill the shoes of the seniors who are leaving this year," Frye said. "Just be a big role model to the ninth graders and the rest of the team next year."