Cross country boys finish first in regions, girls place second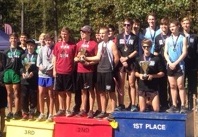 On Oct. 22, both varsity cross country teams looked to improve upon last year's runner-up finishes in the 3-AAAAA region championships.  Led by sophomore Nick Nyman, the boys' team did improve, finishing first as a team.  Despite four runners finishing in the top-10, the girls still crossed the finish line in second place as a team.  
"It was a really successful weekend," assistant coach Austin Enriquez said. "Our boys won the meet by five points, and our girls placed second place. A lot of personal records are on the course for the season, which is what you want to see at the end of the year. Just great races all around."
For the boys, sophomore Nick Nyman earned first place with a time of 16:02.53, senior Joshua Tysor earned fifth place with a time of 16:37.03, and sixth place sophomore Harrison Fultz finished with a time of 16:44.02
On the girls team, junior Mary Valli led Starr's Mill and finished second with a time of 19:07.43. Freshman Megan Dobso finished in third place with a time of 19:14:86. Freshman Lexi Edwards earned ninth place with a time of 20:45.40, while sophomore Zemmie Sleger finished in 10th place with a time of 20:46.59.
The State meet will be held on Nov. 5 in Carrollton, GA. The varsity boys will start at 12:30 p.m., while the girls will start at 1:15 p.m.
"Both of our boys and our girls groups [varsity and JV, will be at state]," Enriquez said. "I'm expecting some high finishes. I don't want to jinx us or anything, but I'm expecting some big things."