Cheer heads to Columbus for state finals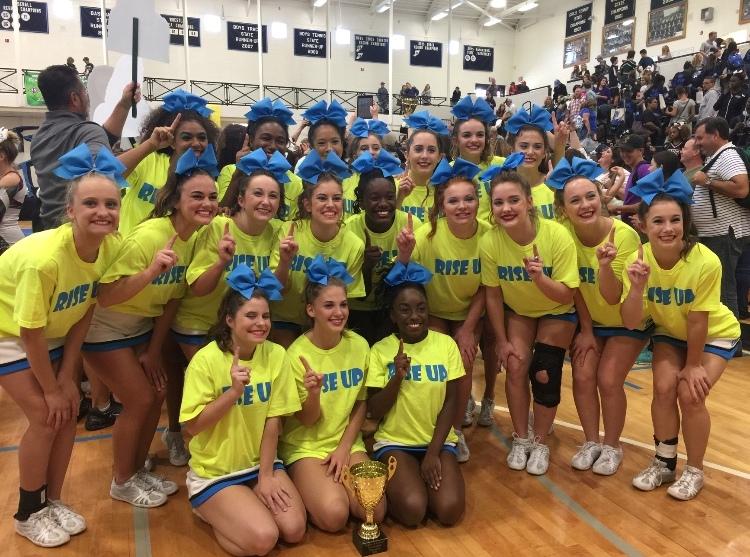 Coming off an important win in the region competition last weekend, Starr's Mill High School varsity cheer is just hours away from competing in the biggest competition of the year, the state championship.
"Our hope is always to win regions, as well as make it to the top six in state finals," head coach Mandy Ratliff said.
After accomplishing one of the goals laid out by coach Ratliff, the girls have been working vigorously to be as ready as possible for their final competition together this season. With both morning and afternoon practices on almost a daily schedule, the team is striving for perfection with just two days left before their highly anticipated performance.
After a strong start with four consecutive wins, the usually dominant team ran into a few minor struggles in their two most recent competitions. Placing second in both of these losses, the team was left with some concern heading into regions.
"Individual errors are hurting us. The youth of this team has caused some struggles along the way," Ratliff said.
Just as coach Ratliff and the rest of the team were hoping, the girls were able to get back to their usual winning ways at regions and secure an important victory that will give the Panthers momentum heading into their performance at state.
With the first place finish in the region, Starr's Mill will have a bye on the first day of the competition and they will compete only on Saturday, Nov. 12
Just one year removed from a "rebuilding year," the team still is very young as 11 out of 20 of the varsity cheerleaders are underclassmen. For the youth this team has, the four victories is impressive, but with two losses, nothing will be a sure thing.
"Our freshmen are doing well for being so young, but there is still room for improvement," Ratliff said.
With a huge win coming for the Panthers at the region competition, the team now moves its focus to the state competition.
"We came out of last weekend feeling confident about our win in regions and hoping to carry that win over into next week's state competition," junior Jordan Smith said.
Even with a win last weekend, the girls have gotten little time to rest because they have to prepare for their best performance of the year.
"State week will be very tough because we will have to work together as a team more than ever to accomplish our goal," freshman Avery Blair said.
After a heart-breaking second place finish in last year's state finals, the team has a chip on their shoulder that they will not let go of until they once again hold the state trophy and are the reigning state champions.
The competition this weekend will be at the Columbus Civic Center. Starr's Mill will perform in the second session on Saturday, Nov. 12, at approximately 3:00 p.m.