East Coweta ends Lady Panther winning streak
Last Friday, the Lady Panthers lost to East Coweta 2-1 in a hard fought battle in Panther Stadium.  . The Mill's junior Sara Biddle and East Coweta's sophomore Laney Steed highlighted the battle as the two struggled for control most of the game.  However, East Coweta dominated possession, and the Lady Panthers could not manage to keep the ball near the goal for long enough to score.
"I think we played well, but we never played with any sense of urgency," head coach John Bowen said. "We were playing the whole game like we were up one nothing."
In the first half, the two teams shared the ball evenly.  Starr's Mill's first attempt at goal came in the 12th minute when sophomore Rachel Davison fired toward the net. When Davison shot the ball, it went off to the side of the goal, going too wide. Attempting to keep the ball, the Lady Panthers greatly relied on senior Sky Dedrick to play defense and maintain possession..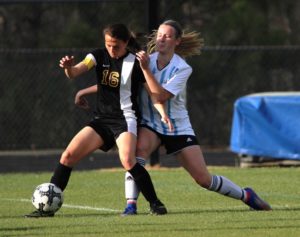 "The things we are talking about constantly are how to keep possession, defensive, where we need to shape our press, and communication," Bowen said.
In the 26th minute, Steed scored the first goal of the game from just within the box. This shot was sent barely past senior keeper Spencer Dawson. This lead to East Coweta picking the tempo up, leaving the Lady Panthers in the dust. As the Lady Panthers struggled to keep possession of the ball, they could not make another attempt at at goal.
"We only had 13 players available tonight," Bowen said. "We're still struggling with injuries. We have got 18 people on the roster, and only 13 are healthy enough to play."
During the second half, East Coweta dominated possession.   In the 34th minute, Steed had an attempt at goal and hit the top crossbar. In the 76th minute, sophomore Laura Walick scored the second goal for the Indians, increasing their lead to 2-0. The Lady Panthers quickly realised that they needed to score, increasing their pace, and keeping the ball on their end of the field.
The Lady Panthers countered with sophomore Quin Nowicki scoring a goal off of a corner kick from senior Ansley Peurifoy off a header in the 80th minute.
"We're still growing, we're still learning," Bowen said. "We have made a ton of progress. We are much better now than we were at the beginning, but we also recognize that there are a lot of things we could do better at."
The 2-1 loss drops the Lady Panther to 6-6-1 on the season.  Up next is the match everyone circles on the schedule.  Both Starr's Mill teams will travel to McIntosh tomorrow for the annual Battle for the Troops.  The boys will play region 3-AAAAA's top team, while the winner of the girls' match will guarantee itself a spot in the playoffs.