Lady Panthers defeated in Battle of the Bubble
The Battle of the Bubble was a fast-paced game where the Lady Panthers lost 3-0 to the McIntosh Lady Chiefs. Throughout the game, both teams had multiple attempts at goal, but a three minute span of play in the first half allowed the Lady Chiefs to protect their home turf.
"I think, for the most part, we did okay," head coach John Bowen said. "Nothing over the top great."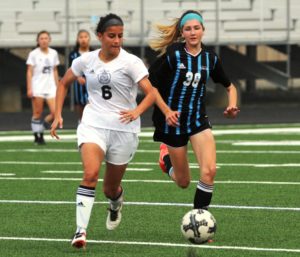 In the fourth minute, senior Ansley Peurifoy had an attempt at goal with a shot from just outside the box. Freshman Quin Nowicki followed up with another attempt at goal in the seventh minute that was shot wide from just within the box.
"After the first goal, our heads went down," Bowen said. "We kinda tuned out for five minutes and they got to score two more times."
The largest struggle for the Lady Panther laid in the foot of senior Taylor Malasek for the Lady Chiefs who scored three goals in a span of four minutes. Malasek scored in the 14th minute as senior keeper Spencer Dawson ran out of the goal to stop a run. Malasek dribbled past her, and scored from within the box. In the 16th minute, Malasek scored once again off of a rebound that was blocked by Dawson. Malasek scored her third and final goal in the 17th minute as she was chased down the field, and kicked the ball straight out of Dawson's reach. Although three goals were scored, Dawson accumulated 10 saves throughout the game.
"Malasek saw our heads go down and she was like 'Sweet, I can score now'," Bowen said. "We just made it too easy for them."
The second half of the game consisted of back and forth play between the two teams. Neither team managed to score, but the Chiefs kept possession of the ball, and took advantage of the Mill's inability to find open players. The Panthers heavily relied upon their back line to keep control of the ball and prevent any additional scoring.
This game put the Mill at third in the region for girl's soccer and the Lady Chiefs at second following Whitewater.
"If we beat Whitewater, that would leave us with a tie for the region title," Bowen said. "If we don't beat Whitewater, we would be at third. We're not sitting in a good position as McIntosh lost to Whitewater 2-1 and we lost to McIntosh 3-0."
The Lady Panthers now stand at a record of 5-7-1 overall and 3-1-0 in region. At the Battle of the Bubble, the boys' soccer team also lost 6-2, putting their record at 11-3-0 overall and 3-1-0 in region. The Lady Panthers will play next at home against the number one team in the region Whitewater at 5:55 p.m. on April 13 opening the varsity double header.