Soccer teams show no mercy for Morrow
After the 3-0 loss to Whitewater, the Lady Panthers came back strong out of the door, and defeated Morrow before the end of the first half on April 17. Morrow could not manage to maintain control of the ball, allowing the Mill to score and score often.
"Our girls just kinda put the ball to the ground," head coach John Bowen said. "They found a way to put the ball in the net."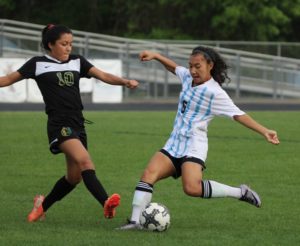 Sophomore Meritt Parker had the most goals of the night with three and added one assist. Seniors Spencer Dawson and Ansley Peurifoy both scored one goal, with Dawson contributing two assists and Peurifoy one.
"We had lots of opportunities to just work on shape of attack and just taking touches," Bowen said. "We just need to make sure we are running off the ball instead of with the ball."
Senior Ashton Nowicki and sophomores Alivia Sapienza and Katelyn O'Shields also added one goal each. Junior Kristen Oates contributed an assist.  On the younger side of the team, freshman Chloe Spradlin scored one goal and had one assist, while freshman Quin Nowicki added two assists.
"There's a big learning curve that we needed to get over," Bowen said. "We're making progress along the lines, but we don't want to quit working on them until time is up."
The Lady Panthers now have a record of 7-8-1 overall and sit third in the region 4-2-0.
Boys soccer defeated Morrow 10-0, raising their record to 13-4-0 overall and 5-1-0 in region. They hold the second spot in the region and will host the first round of GHSA State Playoffs on April 28.
Starr's Mill plays a double header tonight at Walton with the girls opening up at 6:00 p.m. and the boys playing at 8:00 p.m.