Volleyball players receive prestigious honors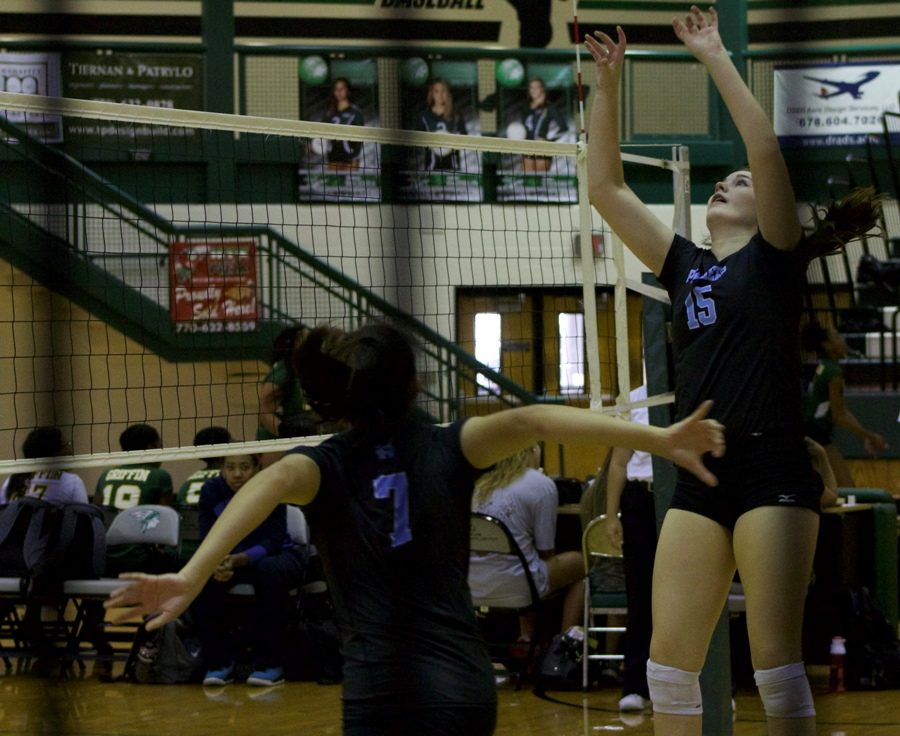 As the season came to an end, the volleyball team finished in the state final four. Along with the team's astonishing overall finish, several players were honored individually. These students accompany the greatest players in both the county and state.
Volleyball head coach Walt Ellison has spoken very highly of this year's team not only in means of talent, but also in their integrity. "I want my two kids to be around our players. That's the biggest compliment I can give to my students or athletes. That defines our players this year," Ellison said. "It isn't about the wins or the losses with our team. It's far bigger than that. It's about the character our players have."
Kicking off the honors received were freshman Ali Rumpel and sophomore Piper Dedrick. Although they weren't awarded a place on a All-County or State team, their season accomplishments paid off in being named Honorable Mentions. Both honorees achieved high stats with Rumple's 105 kills and 66 blocks in her first season with the team and Dedrick's recorded 47 kills, 64 blocks, and 23 aces in only her second year at Starr's Mill.
"
It isn't about the wins or the losses with our team. It's far bigger than that. It's about the character our players have."
— head coach Walt Ellison
Among those honored, senior Jessica Tomasello and sophomore Georgia Waller achieved All-County Second Team. Tomasello scored 344 assists along with 64 aces as both a setter and captain. Waller attained 261 digs and 61 aces at her position of defensive specialist.
Starr's Mill was even better represented on the All-County First Team boasting five athletes including seniors Jesse Echols and Gabi Ramkissoon, junior Megan Lee, and sophomores Tessa Laney and Kayla Sloan. Echols obtained 451 digs and 89 aces at libero marking her final season at the Mill. Ramkissoon, also in her final year, accomplished 215 kills as a team captain and outside hitter. Lee completed the season with a total of 278 digs and 230 kills also playing as outside hitter. Laney, only in her second year at the Mill, gained an impressive 252 kills, 577 assists, 377 digs, and 105 aces from the setter and right side hitter position. Sloan, who's also just a sophomore totaled 229 kills at right side hitter.
In addition to making the All-County First Team, Laney was named to the All-State Team, only one of 11 from AAAAA to receive this honor. This is an astounding accomplishment for any player, especially one who still has two years left in their high school career.
"[Laney's] phenomenal. [Laney] led [the volleyball team] in every major offensive category this season. She  was all around our best offensive player. [Laney's] a great kid on the court [and] off the court. Her humbleness speaks to her character. If you don't know [Laney] she'll never let you know how good she is," Ellison said.
Laney expressed her reaction to the award modestly as Ellison predicted. "I was very surprised receiving the All-State Team award, because the girls on the list are very great volleyball players and I'm honored to be surrounded by them," Laney said.
Although this was Ellison's final season as the volleyball head coach, he strongly professes the change in coaching won't affect the success of the program at Starr's mill. "[The team's success] has nothing to do with the coaches. We don't play, the girls do. [The players] are the ones that deserve all the credit and will get all the credit," Ellison said.
Even though Ellison won't be returning next season, much talent will be. Frontlining the returnees is Laney along with fellow sophomores Sloan, Waller, and Dedrick. Lee and Rumpel cannot be overlooked either. With excellent athletes and plenty of talent, the Mill shouldn't have any trouble being prosperous in volleyball yet again in the future.