Young drivers have strong showing despite veteran dominance
Kevin Harvick, in the No. 98 Hunt Brothers Pizza Ford for Biagi-DenBeste Racing, dominated the Rinnai 250 at Atlanta Motor Speedway. Harvick won all three stages and led a race-high 141 laps.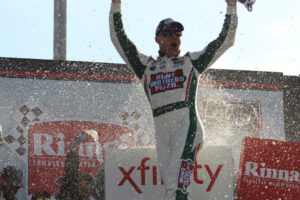 "[The team] did a great job, and it is one of those days where we had a lot of fun to be a part of driving cars, pit road, and everyone who puts the effort in something someone has to do," Harvick said. "This is a great way to start off this year."
The real battle on the track took place between Joey Logano in the No. 22 car for Team Penske and Christopher Bell in the No. 20 Toyota for Joe Gibbs Racing. Bell maintained the second position behind Harvick, and even closed in on the leader late in the race, but scraped the wall with six laps to go, causing him to lose the runner-up position to Logano.
"[The race] was good. I just wish I could have beat [Harvick and Logano]," Bell said. "I mean, you always want to be a little bit better. Overall, third place, two [second place finishes] in the stages. I'll have to build on it and be better for next time."
John Hunter Nemechek, in the No. 42 Fire Alarm Services Inc. Chevrolet for Chip Ganassi Racing, finished fourth in his first NXS start at Atlanta Motor Speedway. Elliott Sadler, driver of the No. 1 Cessna Chevrolet for JR Motorsports, finished fifth, and now leads the Xfinity Series points by four over teammate Tyler Reddick.
Justin Allgaier, Austin Cindric, Kyle Benjamin, Ryan Truex, and Ryan Reed rounded up the top ten.
"[A]s the race went on, I got more and more into a rhythm of being able to run the yellow line," Nemechek said.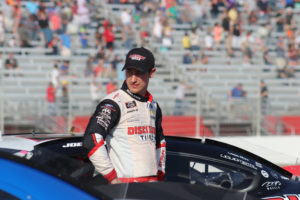 Logano led first until Harvick surpassed him near the end of Stage 1. Cole Custer, driver of the No. 00, started third but quickly dropped back before wrecking on lap nine, bringing out the first of four cautions in the race. The caution brought the field together only temporarily, because when it went back to green, Harvick, Bell, and Logano quickly pulled away from the field.
Nemechek, who struggled early in the stage after contact with Custer on lap nine forced him to pit due to a cut tire, benefited from the caution at the end of Stage 1. He used Stage 2 to rally back up through the field.
"I've never been in [this] position before or around other cars until lap one today of the race," Nemechek said. "It was definitely a steep learning curve, but we were able to adapt fast and work on the fly."
Harvick, Bell and Logano continued to be the class of the field throughout Stage 2, with Harvick leading all 40 laps. A battle developed between Truex and Allgaier, as Allgaier moved up. Meanwhile, Nemechek slowly recovered from the Stage 1 trouble and worked his way up to 15th place.
After pit stops, Nemechek restarted in 11th place. With 57 laps to go, Harvick, Bell and Logano continued to set a blistering pace.
When pit stops approached with 45 laps to go, Bell gained on Harvick, but it was not enough.  After the cycle of green flag pit stops, it was still Harvick, Bell, and Logano.
Tyler Reddick, last weekend's winner at Daytona, blew a tire late in the race, forcing him to pit, and relegating him to a 19th place finish, two laps down.  The mishap also cost him the overall Xfinity Series points lead.
By the end of the race, only seven drivers remained on the lead lap.  In total, the race had nine lead changes among the top three drivers.
Despite the win, Biagi-DenBeste Racing does not plan to change its plans of running a limited schedule this season.
"I think we have a good plan," Biagi-DenBeste Racing team owners said. "[T]he rest of the [drivers in our plan] will deliver a good item, a good package."
Ryan Sieg from Tucker, Ga. finished 22nd after starting 25th.
Peachtree City driver Garrett Smithley started 32nd and finished 25th
"The tough part about this weekend was just not getting practice. Basically, we used the first couple runs in the race as practice. By the time we got the car where we needed to go, we were right where we needed to be," Smithley said. "I'd never run this car before and we worked on it all day and I think we got a lot of momentum going to Vegas."
The Xfinity Series heads west next weekend for the Boyd Gaming 300 at Las Vegas Speedway. The race starts at 4 p.m. on Saturday, March 3.