Varsity Panthers shut out Chiefs 3-0, earn top seed in region
Ty Odom, Staff Writer
April 16, 2018
After going 1-4 in the last five matches, the Starr's Mill boys' varsity soccer team defeated crosstown rival McIntosh Chiefs 3-0 Friday night. The Panthers controlled the pace in what was a satisfying win.
Senior Sam Pompeo led the Panthers, scoring one goal, with junior Ryan Shanahan adding two of his own. Freshman goalkeeper Andrew Cole had four saves, all in the second half.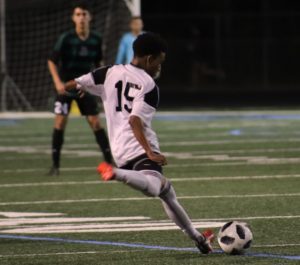 "It feels great to beat McIntosh any time," head coach Mike Hanie said. "We're the No. 1 seed in our region now, and it's just a great feeling."
The first half started off slow for the both teams as they traded possession without any shot attempts. However, Starr's Mill defended well, playing physically and communicating with each other. Both teams were scoreless until the 33rd minute when Shanahan was fouled. He scored on the ensuing penalty kick. The Panthers continued to play tight defense to close the half with a 1-0 lead.
"We found [sophomore] John [Roberts] all the time," Shanahan said. "We just have to keep finding each other and play off of that."
Starr's Mill completely controlled the second half. The team kept up their spectacular defense, with Cole making key saves in the opening minutes. This great defense was later rewarded when Shanahan scored his second goal of the game in the 34th minute. Pompeo followed with a goal of his own a minute later.
Cole iced the game with two important saves in the last four minutes, completing the shutout.
"When we work together, we can beat just about anybody," Pompeo said. "Everybody communicated great, and it was one of the factors that led us to the win."
With this win, Starr's Mill improves their overall record to 9-6 and their region record to 5-0. Their next game is on April 17 against the Fayette County Tigers in Panther Stadium at 5:55 p.m. The team will celebrate this year's seniors after the game.