Lady Panthers strike down War Eagles, fall to Cougars
Ty Odom, Staff Writer
August 26, 2018
Following a 0-2 loss against Northside and a 2-0 win against Northgate, the Lady Panthers varsity volleyball team returned home to play games against Woodward and Newnan.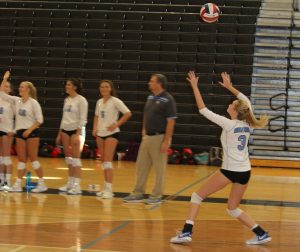 In the first match against Woodward, the Lady Panthers were engaged in a back-and-forth battle with the War Eagles. In game one, Starr's Mill jumped out to a quick 3-1 lead, but lost the lead after Woodward went on a 9-2 run and forcing the Panthers to play catch-up.The Panthers regained the lead for a brief time, scoring 11 points to the War Eagles' 10. Starr's Mill tied the game up several times, but failed to make a big run as Woodward closed the Panthers out, winning 25-18.
In games two and three, the Lady Panthers controlled thee War Eagles, setting the pace of both games. Game two was a close game, but Starr's Mill dictated the pace, rarely giving up the lead on their way to a 25-23 victory. The third game was totally controlled by Starr's Mill, as they only gave the lead up once. After going down 10-11, they went on a 5-0 run to beat Woodward 11-5, and win the match 2-1.
"We weren't playing our game, we were reacting to what they did [in Game 1]," Flowers said. "We have to focus on our game and not let [Woodward] dictate us."
The second match against Newnan was an intense three-game struggle. In the first game, the Cougars led from start to finish. The Panthers struggled to make large runs, as they were unable to break through the tough defense by the opponents. Newnan won the first game 25-16 after a 3-0 run to close out.
"We need to start off strong," senior Megan Lee said. "It is important going into any match."
Game two was a much more balanced match, with four lead changes and six ties. Starr's Mill consistently found gaps in the Cougar defense and was able to squeeze out a 26-24 win. Game three was another back-and-forth affair until the final few minutes. The Lady Panthers traded leads with Newnan until the Cougars broke out into another 3-0 run to end the game, winning 15-12, and winning the match 2-1.
"Our intensity is the thing that got us this far," junior Kayla Sloan said. "We only need to fix one or two things, and we'll be back."
The Lady Panthers play at home again on Aug. 28 against East Coweta at 5:30 p.m. and against Columbus at 7 p.m.