Panther pass protection too much for Chief offense
The Panther junior varsity football team halted the McIntosh Chiefs in their tracks last Thursday with the Mill coming out on top 30-6. The Chiefs bombarded the Panther defense with passes, but the Mill's pass protection was too much.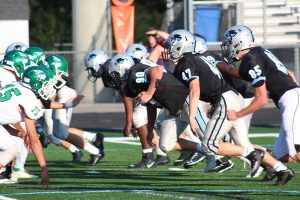 "I feel like we did pretty good, like we've improved over the season," sophomore Joey Sulkowski said. "We played all four quarters instead of just the first half like we've been working on."
The Mill's offense put up 189 rushing yards and 64 passing yards. The Panther defense allowed 207 yards, forced one safety, picked up one fumble, and grabbed one interception.
The Chiefs made numerous efforts to put points on the board throughout the game, but the Panther defense seemed to excel while backed up in their own red zone.
"Couldn't have done it without my line," freshman quarterback Colin Bartek said. "They did pretty good starting out the first half strong and continued through the second half."
On offense the Panthers were hit or miss, going three-and-out multiple times, but also driving the ball straight into the red zone to score four times in total.
In the end, the Panthers came out on top 30-6.  The JV Panthers travel to the north end of the county to face Sandy Creek on Oct. 11 at 5:30 p.m.