Lady Panthers late comeback attempt falls short
The Lady Panthers have experienced a rough start to the 2018-19 season. After starting 0-3 following the North Forsyth Thanksgiving tournament, Starr's Mill picked up their first win against East Coweta on Nov. 27. However, three days later they lost another game to county opponent Sandy Creek. The Lady Panthers competed all night with the Patriots, but failed to gain or maintain any lead, resulting in a 48-45 loss.
"
They were big and they out-maneuvered us in the paint."
— head coach Emily Sweeney
"We played a good team," head coach Emily Sweeney said. "They were big and they out-maneuvered us in the paint."
Junior Alice Anne Hudson led the Panthers with 16 points, two steals, and a block, on 6-for-12 shooting. Freshman Jaclyn Hester added 13 points and three rebounds for the Mill. Senior Alyssa Angelo played a well-rounded game, notching five points, four rebounds, four assists, and three steals. The Lady Patriots' size down low forced Starr's Mill to settle for jumpshots, resulting in a poor 9-for-26 shooting night from beyond the arc.
That size also produced many easy baskets for Sandy Creek. Junior Daija Powell, who's averaging 20.6 points and 10.2 rebounds per game this year, scored 17 points against the Mill. Senior Paris Thompson added another 14 points for the Lady Patriots. Sandy Creek looked for easy baskets in the paint and dominated the glass en route to their fourth win of the year.
"They boxed out and got multiple looks on offense by getting offensive rebounds," Angelo said. "We let them play their game and slow the ball down."
The two teams battled closely in the first quarter, but Sandy Creek's ability to find easier looks helped them begin to gain a lead. The quarter was still low scoring as both teams searched for a groove. The Lady Panthers knocked down a few jump shots but the Patriots led 13-7 after one quarter.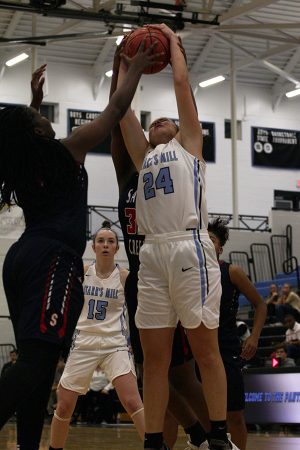 Powell started causing issues for the Mill in the second quarter, scoring six of the Creek's 16 points. Hudson starting scoring for the Panthers, but they still struggled to find easy shots. Powell and sophomore Arielle Belinga, 6'1" and 6'0" respectively, prevented any close shots for Starr's Mill. Following a slightly more action-packed second quarter, Sandy Creek led 29-19 going into halftime.
"We played zone [defense] in the first half," Hudson said. "But we switched to man in the second half and I think we were more successful."
In the third quarter, the Lady Panthers outscored Sandy Creek 12-10, bringing them within eight. The team knocked down a few three pointers and began to claw back. Hudson invaded pass lanes and disrupted the Creek's offense, forcing them to play sloppier on offense. After the eight minute period, the Lady Patriots still led 39-31.
Starr's Mill put everything together in the last quarter to attempt a comeback. Hudson, Hester, and junior Ashtyn Lally connected on multiple three pointers and the Panthers pulled within six, 45-39. They then continued to get stops on defense, but lost momentum on offense. Lally and Hester earned many open looks, but missed on their three-point attempts. Hester and Hudson eventually hit shots, but it was too late. Sandy Creek held on for a narrow three-point victory.
"The past five games have shown me the strength this team has to fight until the end of the game," Angelo said. "These games have demonstrated how important possessions are and that when we play our game and turn the ball over less, this team is something special."
The Patriots followed up their win with a 58-34 shellacking of Tucker High School on Saturday. Now 5-3 on the year, their next game is at 6 p.m. on Dec. 11 against East Coweta. The contest will be played at Sandy Creek High School.
As for Starr's Mill, they begin region play this week with a duel at home against McIntosh. The Lady Chiefs are a perfect 5-0 this season, and look to continue their win streak in the Battle of the Bubble. The Lady Panthers may be 1-4, but they will look to use this contest to prove they are better than their record. The game is at 6 p.m. on Dec. 4 in the Panther Pit.