See you later, alligator
Panthers demolish Ware County 8-0 in opening round of state playoffs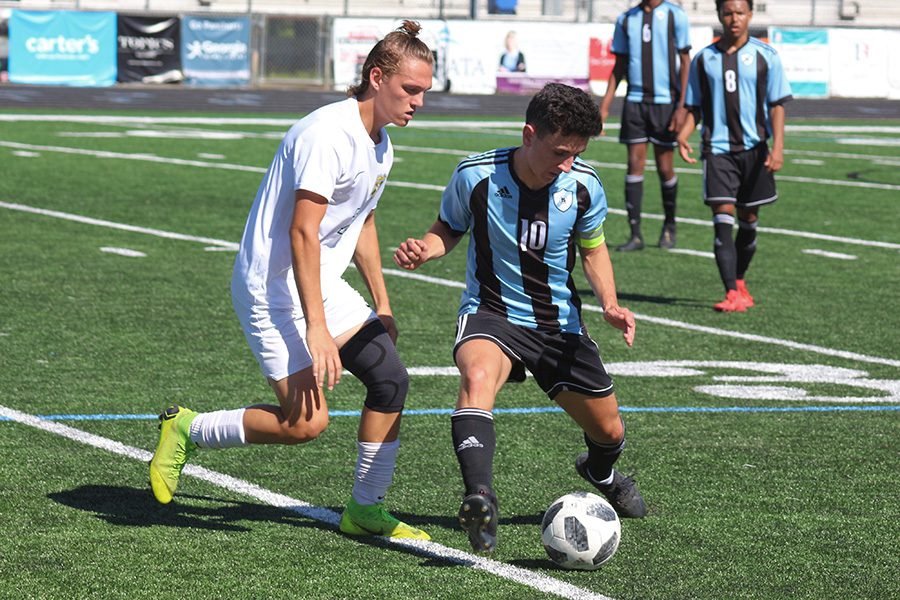 Ty Odom, Staff Writer
April 24, 2019
The Starr's Mill varsity boys' soccer team, holding the No. 1 seed in Region 3-AAAAA, played against Ware County, the No. 4 seed of region 2- AAAAA, in the first round of the playoffs. The Panthers controlled the game for all 80 minutes, shutting out the Gators 8-0 to move on to the second round.
Senior Ryan Shanahan was the leading scorer for the Mill, pulling a hat trick in the first half. Senior Jack Baker, sophomores Jake Eubanks and Keenan Godfrey, and freshmen Braden Brownell and Josh Sims all followed with one goal each.
"[These wins] are very important," Godfrey said. "It boosts our confidence."
The first 20 minutes of the opening half were slow-paced, but Starr's Mill kept possession of the ball on their side of the field. After seven missed shots on goal, Eubanks started the scoring streak with a goal at the 26-minute mark. Godfrey followed with a goal just outside of the box one minute later.
In the 29th minute, Baker added to the scoring barrage with a goal deep within the box. After Baker's goal, Shanahan made three consecutive goals, including a PK, to complete the hat trick. At the end of the first half, the Panthers were out to a 6-0 lead over the Gators.
"By the help of my teammates, I was able to score," Shanahan said. "They're always setting me up."
Early in the second half, the Panthers kept up the dominant offense when Brownell scored a goal from the corner of the box four minutes into the half. After Brownell's goal, Starr's Mill slowed down the pace, keeping possession of the ball and preventing Ware County from making a late-game run.
In the 67th minute, the Panthers added to their lead courtesy of a goal from well outside of the box by Sims. For the final minutes, Starr's Mill held possession until the clock run out, coasting to an 8-0 shutout victory.
"You want to set the tone right away," head coach Mike Hanie said. "It's a single-game season. If you win one, you get another game."
The Panthers will host either Thomas County Central or Woodland in the next round of the playoffs at Panther Stadium. Date and time are to be determined.