The three amigoals
Trio of hat tricks give Panthers easy win over Wildcats
The Starr's Mill boys' lacrosse team is out to prove doubters wrong. After early exits in the playoffs the past few seasons, the Panthers opened the postseason this year with an 11-0 win over Whitewater.
"I was proud of them for not turning the ball over," head coach Jeff Schmidlkofer said. "They look tired. We have to make sure they're ready for the trip to Savannah."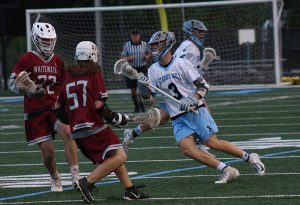 Junior Cameron Herd and sophomores Gabe Lopez and Luke Rusterucci each scored three goals for the Mill. They traded off scoring and built a 9-0 lead in the first half. Junior Garrett Meuninck won a majority of the faceoffs and prevented Whitewater from gaining possession.
Whitewater only had possession a few times, most of which ended with turnovers. Their few shots on goal were saved, and they failed to put up a single goal. Whitewater was outscored 27-1 in two games against the Mill this year.
"We were moving the ball well, rotating, running our offense," Lopez said. "We just have to stick to our game plans."
In the first quarter, Lopez opened the scoring and Herd followed three minutes later. At the 6:14 mark, Rusterucci added a third goal to the total.
In the second quarter, the three each scored in the same order. First, Lopez found the net, followed by Herd and Rusterucci, increasing the lead to 6-0. Lopez scored once more, then Rusterucci and Herd earned hat tricks of their own. At halftime, Starr's Mill led 9-0.
"We were getting to our spots on offense and getting the right cuts," Herd said. "We have to make sure to slow it down, be patient, and don't force anything."
The Panthers brought in their JV players for most of the second half, and they scored two goals and held Whitewater to zero. After the final buzzer sounded, Starr's Mill advanced with an 11-0 win.
Up next for the Mill is Benedictine. The Cadets are 15-2 this year and went a flawless 6-0 in their area. They defeated Holy Innocents Episcopal 15-13 in their round one matchup.
The Panthers travel to Savannah for a matchup with the Cadets at 4 p.m. on May 7 at Benedictine High School.