Starting their seasons in style
Basketball teams run through Ola in season opener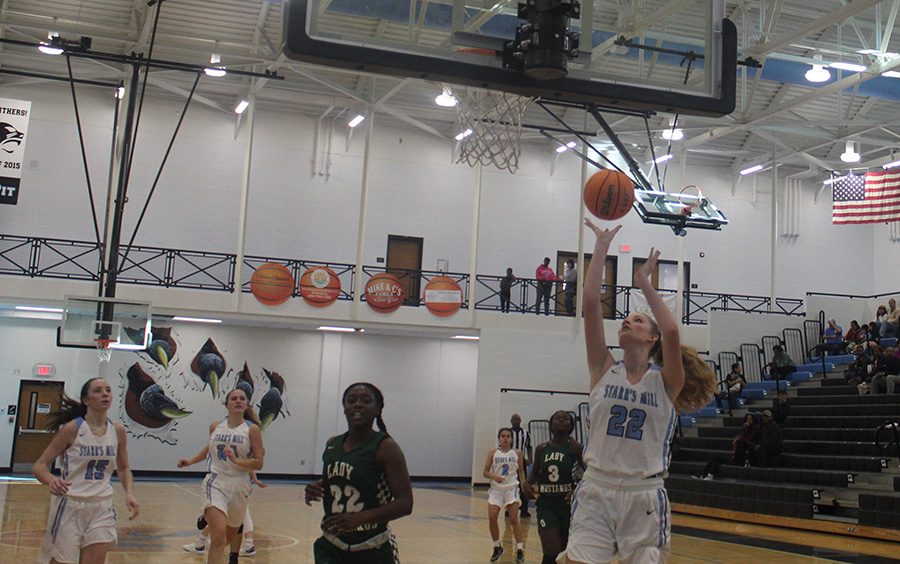 November brings in the start of another basketball season. The Starr's Mill boys' and girls' basketball teams hosted the Ola Mustangs this past Saturday. The girls and boys both took care of business winning 56-35 and 60-32, respectively.
Starting with the ladies, three Lady Panthers had double-digit games. Sophomore Jaclyn Hester led the team in scoring with 17 points. Senior Alice Anne Hudson was not far behind with 14 points, and senior Ashtyn Lally scored 11.
"I was really proud of [the team]," girls' head coach Emily Sweeney said. "I saw a lot of good things. I got to see a lot of people play, so I was real proud of them."
Beginning in the first quarter, both Ola and Starr's Mill were having trouble getting off the ground. The opening minutes of the game were very quiet. Midway through, Ola scraped together a minor 6-4 lead over Starr's Mill.
Hester soon converted a foul on Ola into a three-point jump shot. In the latter half of the quarter, Hester put together another three and a layup. Her scoring efforts helped lead the Lady Panthers to a 12-6 lead at the end of the first quarter.
"I think we just got everything together after a couple of minutes," Hester said. "We started playing like we usually do and hustling more."
In the second quarter, the Lady Panthers continued to pick up steam. Hester hit another three, while two three pointers from Hudson helped run up the score. Ola was shut down, only being allowed a single field goal. The first half ended with Starr's Mill holding a 24-8 lead.
After the half, Ola came out fighting and dropping 15 points. Despite this, Starr's Mill answered. Hudson and Lally put together nine points. Hester and junior Denise Fajardo both scored a field goal as well. Starr's Mill kept a sizable 39-23 lead at the end of the third quarter.
"
There's no 'I' in team. We all come out together."
— junior Michael Townsend
"We definitely have a lot of work to do and put in," Hudson said. "But for right now I feel pretty confident in how we will be in the region and state tournament."
Ola put together a few field goals, but they were out-played by the Lady Panthers throughout the fourth quarter. Lally and senior Julia Godown combined for three three point field goals. Hester shot one more field goal and Fajardo shot two more. Starr's Mill kept Ola at bay finishing the game with a 56-35 victory.
"We didn't get a scrimmage this year, so this kind of our first [chance to] get all the kinks out, so it was nice that [the girls] could come out and finish the job," Sweeney said. "[Ola] started to creep back there for a second, and knowing that they could just put the nail in it to end it was nice."
They will travel for their matchup against Sandy Creek tonight. Tipoff is set for 6 p.m.
The boys also showed up with new head coach Josh Reeves. Like the girls, the boys ran over the Ola Mustangs in a 60-32 victory.
Leading the charge in scoring was senior Zac Cerniglia with 11 points, and seniors Camden Sutherland and Tim Hall adding six and seven points, respectively. Thirteen of the 15 players that took the court scored a field goal.
"I really like the makeup of our team," Reeves said. "[The boys] did a great job of adjusting in what we needed them to do and when you got a team like that, that helps a lot."
At the start, the Panthers were slowly asserting themselves over Ola, scoring 11 points in the first quarter. The Mustangs, however, did keep it a close game thanks to the efforts of senior Myles Moore, who accumulated five points in the first quarter. Despite Ola's efforts, the Panthers kept a 11-9 lead to end the first quarter.
Moore came out swinging for Ola. He helped the Mustangs pull ahead with a 14-11 lead early in the second quarter. Starr's Mill immediately bounced back to grab a 16-14 lead. After that there was a quiet period in the middle portion of the second quarter.
Later in the second quarter, junior Brandon Allison drained a three to help get Starr's Mill off the ground again. The Panthers continued to separate themselves while shutting out Ola for the rest of the quarter. Starr's Mill ended the first half with a 25-14 lead.
"We've just been putting in a lot of work. We've been getting a lot of shots up, but most importantly we've been working on our defense," Cerniglia said. "We came out in that 2-3, and we really thought that we would be able to force [Ola] to take pretty bad shots. That's what kind of got us rolling after we were down was our defense."
Following halftime, Starr's Mill came out making some minor mistakes,but  the Panthers still kept Ola far from their lead. Defensively, the Panthers only allowed four points all throughout the third quarter. Multiple Starr's Mill players put together field goals to continue to widen their lead. The Panthers finished the third quarter with a 42-20 lead.
There seemed to be no response on Ola's end as the Panthers continued to widen the lead that they had. It was a similar situation compared to the third quarter, where the Panthers suffocated the Mustangs on defense and converted well on their possessions.
Reeves' defensive philosophy was on full display throughout the game, and pulled through in the fourth. Starr's Mill only allowed Ola twelve points throughout the quarter. The offense put together eighteen points to put the game out of reach. The final score was 60-32 Starr's Mill.
"Honestly I come in with one mindset, man, 'Let's get it done'," junior Michael Townsend said. "There's no 'I' in team. We all come out together."
Showing promise, the boys looked solid under their new head coach. They will be tested this week against Sandy Creek and East Coweta. The team already has their eyes set on tonight's matchup versus the Patriots.
"I felt like this game helped prepare us for [Sandy Creek]. I told the boys in there 'Look, the best thing to do is get ourselves ready'," Reeves said. "[Sandy Creek] is a tough team, so we've gotta come in and we've gotta match their level of toughness."
Traveling to Tyrone, Starr's Mill will face off against Sandy Creek at 7:30 p.m.