Back to the lab again
Townsend drops 15, Panthers remain winless in region play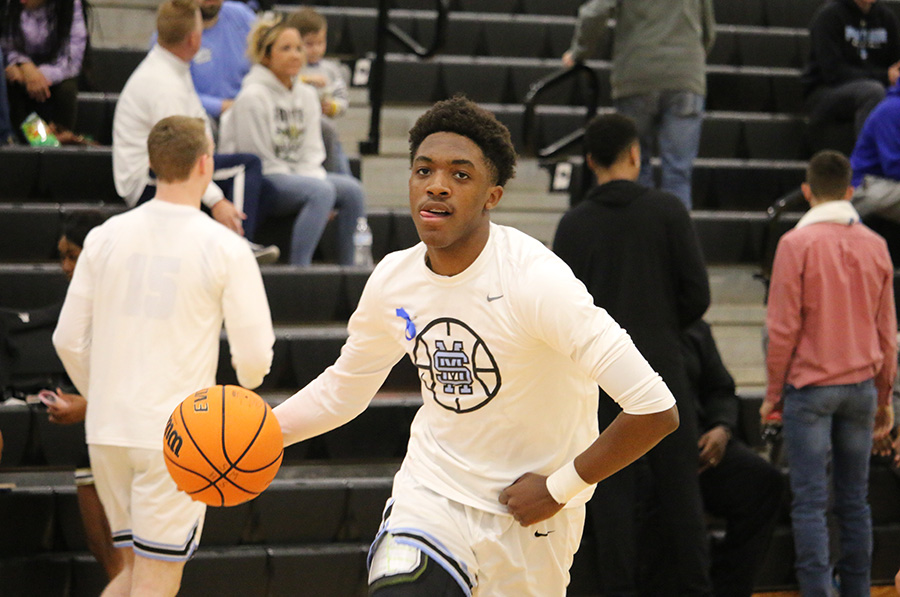 Over the past few weeks, the Starr's Mill boys' basketball team traveled to get some competition and experience for the upcoming slew of region games headed their way. In their events over Christmas break, the team went 1-2, dropping an average of 60.7 points per game and allowing 67.7 points per game.
Starr's Mill enters a month filled with region games. The first of these games was against the Fayette County Tigers. Starr's Mill struggled to recover from a bad start, which ultimately led to a 65-52 loss.
"[Fayette County] did a good job of at least keeping that lead to where it was," head coach Josh Reeves said. "We just had to make those shots at the end so that we could cut into it a little bit farther."
Sophomore Malachi Townsend led the Panthers in battle, scoring 15 points. Junior Brandon Allison also put up eight points while junior Michael Townsend and senior Reese Clevenger both contributed seven points.
Despite their strong performances, Fayette came to play with multiple double-digit performances. Leading the way was senior King Calhoun with 13 points. Junior Cardell Bailey and senior Kalen Hodges both dropped 12 points and combined for three three-pointers. Senior JeKobe Coleman also dropped ten points himself.
After a moment of silence to honor the late John Strickland, the Tigers went straight to work. They released a scoring onslaught that included four three-pointers, two by Hodges. Four and a half minutes in, Fayette County amassed a 21-7 lead.
"We wasn't [sic] in it at first," Townsend said. "We gotta change that. We gotta come in the mindset and play."
Fayette County stood strong to end the quarter with a 28-12 lead. Through the second quarter the Tigers stalled in a scoring drought for most of the quarter, only scoring 12 points. Townsend and junior Elliot Baker combined their efforts to score one and two three-pointers, respectively. The Panthers couldn't gain any more traction and ended the half trailing 40-25.
Similarly in the third quarter, the Tigers kept quiet compared to the first quarter, but Starr's Mill did not do anything to get closer to Fayette County. Townsend and Allison did all they could by contributing a combined 11 points. Nobody else on the Panthers could help manufacture points, keeping Starr's Mill at a distant 56-42 deficit.
"
We gotta watch film and realize what we did good and what we did bad and change it."
— junior Brandon Allison
Two minutes into the fourth quarter, the Panthers cut the Tigers lead to nine to possibly set up a huge comeback. Despite the setup, the boys never followed through, only scoring ten points in the quarter. Fayette County may have only scored nine points, but it was all they needed in order to outlast the Panthers. Fayette County took the game with a final score of 65-52.
"We had a couple turnovers in the fourth and third quarters," Allison said. "We gotta watch film and realize what we did good and what we did bad and change it." 
Starr's Mill now falls to 4-11, remaining winless in region play (0-3). Half of the games they have played have been decided by ten points or less. 
There is potential on the team, and it will need to be unlocked in the month ahead. For now, they lie at the bottom of the region.
Over the next two weeks, the Panthers will play four region games. Starr's Mill will remain in the Panther Pit for their next three games against Riverdale, Griffin, and the Battle of the Bubble against McIntosh. They travel to play Whitewater on Jan. 18.
"We just gotta realize that we can't make the same mistakes two games in a row," Reeves said. "As long as we come in and don't turn it over early, as long as we come in and hit some of those shots to cut into the lead, that's what we gotta work on."
The Panthers host the Riverdale Raiders this Friday. Tipoff is set for 7:30 p.m.