No Demons on Valentine's Day
Lady Panthers dismantle Warner Robins in first round
After winning their first region championship in school history, the Lady Panther basketball team began their quest for a state championship on Valentine's Day against Warner Robins, the No. 4 seed from Region 1-AAAAA. A slobberknocker from the opening tip, the Lady Panthers proved too much for Warner Robins, soundly defeating them 63-47.
Bekah Algaze
"[This team] is strong mentally," head coach Emily Sweeney said. "They didn't let anything get the best of them. They wanted to win."
Senior Alice Anne Hudson led Starr's Mill with 18 points. Sophomore Jaclyn Hester had 16 points in one of her best games of the season. Senior Ashtyn Lally contributed 13 points, including four three pointers.
Junior Courtney Davis led all scorers with 19 points, and was a bright spot for a Warner Robins offense that was lacking in aggression and consistency.
Starr's Mill got off to a quick start in the first quarter, knocking down two quick threes courtesy of Hudson and Lally. The Lady Panthers also crashed the boards well despite Warner Robins' size advantage. This continued throughout the quarter, giving Starr's Mill a 13-7 lead at the end of the first quarter.
"Our team chemistry is just so good," Hudson said. "We have trust in each other, and as long as we keep that trust we can do anything." 
"
They didn't let anything get the best of them. They wanted to win."
— head coach Emily Sweeney
The second quarter proved to be even more dominant for the Lady Panthers as they outscored Warner Robins 23-6. This was made possible by smart basketball IQ from Hudson, Lally, and seniors Ryanne King and Kara Dial. Hudson and Lally provided the scoring. King used her aggressiveness inside to crash the boards, while Dial used her lockdown defense to keep the Demons at bay.
Hester found her rhythm, consistently hitting threes from the corner, and finding Hudson in the paint for easy layups. At halftime, Starr's Mill led 36-13.
"You just got to keep going," Hester said. "No matter if you're shots are falling or not, you just got to keep shooting."
Warner Robins started to find answers against the Lady Panther offense in the third quarter, and it brought Starr's Mill to a bit of a standstill. To counter this, the Lady Panthers continued to keep attacking defensively.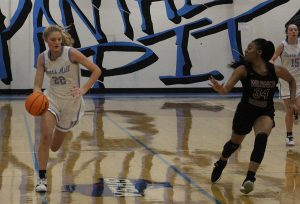 However, the Demons started to create some offense, outscoring Starr's Mill 16-7 to make the score 43-29 Lady Panthers at the end of the third quarter.
"We know each other's skill sets," Hudson said. "We use that and play together successfully."
The Demons still had the advantage in the beginning of the fourth quarter, cutting the lead to ten with seven minutes to play. However, the Lady Panthers regained the momentum shortly after that. The only way Warner Robins could slow the pace was to foul, which put them in the bonus with six minutes left to play.
Due to continued frustration, the Demons started to play rough as the time ticked away. It was to no avail as the Lady Panthers took the win 63-47.
"We just kept on playing hard," Hester said. "We didn't let them back in the game and we continued to increase our lead."
Starr's Mill has now won their last 22 games. Their last loss coming against Langston Hughes on Nov. 23. The Lady Panthers play again on Feb. 10 when they host Arabia Mountain, the No. 2 seed from Region 5-AAAAA. The Lady Rams defeated Villa Rica 64-51 to earn a trip to the Panther Pit.
Tipoff is at 6 p.m. Come out to the Panther Pit and support your Lady Panthers!