Bend, don't break
Panthers outlast Union Grove in breathtaking finish
There are exactly 49.2 seconds on a fourth and eight for the Union Grove Wolverines. They need to drive into the end zone from 33 yards out. The Starr's Mill defense refused to break in that moment. One tipped pass later, the Panthers rode back home with the 19-14 win.
"
Are they gonna lay down, or fight and persevere and battle through? It's a good group, and they found a way to battle through."
— head coach Chad Phillips
"We talk about finishing a lot at practice," head coach Chad Phillips said. "We actually put them in physical distress with conditions we do to see what they're gonna do. Are they gonna lay down, or fight and persevere and battle through? It's a good group, and they found a way to battle through."
Though no Panther runner cracked 100 yards, multiple runners racked up yardage. Leading rushing yards this week was once again senior Devin Barnett with 16 carries for 98 yards. Sophomore quarterback Will Yarbrough and juniors Colin Bartek and Brandon Mathis combined for 117 rushing yards on 18 carries and two touchdowns.
Senior Jaylen Blackwell and Dechavion Williams Jr. gave the Panther defense a run for their money with the former rushing for six carriers for 41 yards, and the latter rushing the ball eight times for 103 yards and a touchdown. Despite garnering more offensive yards than Starr's Mill, the Panther defense kept them scoreless throughout the second quarter and also had a safety early in the game.
"[Playing Union Grove] was almost like playing a mirror," senior linebacker Wes Haney said. "Because they run the same exact [offense] we knew what they were coming in there with. We just had to be physical. We missed a few tackles, came out kinda flat in the first half. And then we fixed things and got it done."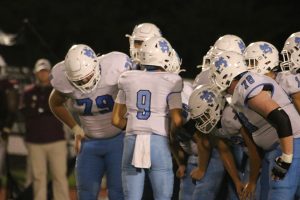 Four plays into the game on fourth and four, Union Grove's center botched a snap, launching the football into the end zone. A Wolverine picked up the ball, but Junior Zack Benifiel took full advantage with a tackle in the end zone. One drive into the game and the Panthers had a 2-0 lead.
Their next offensive drive was riddled with penalties. Two straight penalties were called on the Panthers that brought them all the way to first down and 24 yards. Making it down to fourth and 10 on the Union Grove 21, senior Connor Marke was brought out for a field goal attempt. Three minutes passed until Marke was able to make his attempt due to disputes regarding the spot of the ball. When Marke finally got his chance to kick, he missed.
"Honestly we just kept going," Yarbrough said. "Eventually we got our blocking down. We got everything down. We started doing everything that we should do and started executing. That's why we started scoring."
The rest of the quarter was rather uneventful. However, near the end of the first quarter, Marke made a 47-yard field goal to extend the Panthers' lead to 5-0. Following a touchback, Williams Jr. took a carry for 80 yards to the house. In the ensuing kickoff, the ball was muffled by the Panthers then recovered by the Wolverines.
As the game moved into the second quarter, Union Grove held a 7-5 lead and used their speed and drove the rest of the field into the red zone. Junior Connor Williams punched the ball in the end zone to cap the drive and expand Union Grove's lead to 14-5.
"
We started doing everything that we should do and started executing. That's why we started scoring."
— sophomore Will Yarbrough
Starr's Mill collected some momentum in the first few plays of their next drive, only for Yarbrough to lose a fumble off of a mishandle toss play that Union Grove picked up. In a quick turn of events, the Wolverines lost a fumble a couple plays later that junior Barrett Schmidlkofer picked up.
"We just cut [Union Grove's] scoring percentage down by a lot more than half," Phillips said. "They've been averaging 40 points a game and they scored 14 on two big plays. But big plays count, you gotta play them better, and that's what we gotta work on."
For the rest of the quarter, the Panthers proceeded to milk the clock and made it to Union Grove's' one-yard line. On a third and goal, Yarbrough ran around the line, hooking toward the end zone. His face mask was yanked by a Wolverine followed by clashing head first into another Wolverine.
This collision jarred the ball loose, and it fell into the end zone. However, Bartek landed on top of the ball for the touchdown. Ending the second half, the Panthers were back within a score 14-12. Even though Yarbrough took a major hit, he stayed in for the majority of the game.
"Gotta do it for the team," Yarbrough said. "Honestly, when I got hit though, it was fine. I just laid there and I was like, 'Wow, that hurt.' But I mean, [the hit was] not enough to keep me out of the game."
"
We had them backed up twice and let them swarm away… We finally made some plays right there at the very end."
— head coach Chad Phillips
Starting with the ball in the second half, the Panther drive was cut short due to an interception thrown by Yarbrough. It did not take long to get the ball back, as Union Grove was forced to punt in six plays.
Once more, Starr's Mill ran down the field with the team's carousel of running backs. Eventually, Mathis capped off the drive with a quick one-yard touchdown. Nearing the end of the third quarter, the Panthers were back in the lead 19-14.
In the Wolverine's next drive that continued into the fourth quarter, they faced a fourth down they were adamant in converting. In that fourth down conversion, the Panther defense pulled through for a turnover on downs thanks to senior Luke Mullins. Another drive came and went for the Panthers ending with a fourth down. Senior Punter Gavin Necessary booted the punt from their own side of the field all the way to Union Grove's 16-yard line.
"They're a running offense, like we are, so I thought it was going to be very difficult for them to drive 75-85 yards to win the game," Phillips said. "We had them backed up twice and let them swarm away… We finally made some plays right there at the very end."
About five minutes of game time were left when the Wolverines' drive began. What followed was their final stand.
Union Grove's drive began with a couple of first downs. Then Blackwell broke away with a wheel route, but the following pass was incomplete. Senior Duke commit Cole Bishop broke up the next pass play, leading to a fourth down in which Union Grove converted.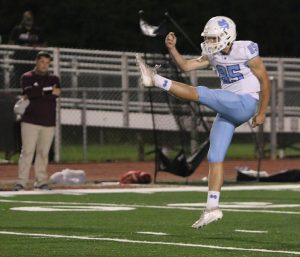 On the next drive, a sideline catch by Williams Jr. kept the drive alive on second and 10. Minutes later and Union Grove pushed past midfield into Panther field. Their drive all came down to a fourth and seven on the Starr's Mill 33-yard line.
The crowd roared. Williams Jr. was put in as the passer, and the prize of victory was in the balance of this next play. The snap went high, but Williams Jr. still got a hold of the ball. He threw the ball in tight coverage. The pass was tipped and spent an excruciating time in the air until it finally fell to the turf.
Pass incomplete. Game over. Panthers win 19-14.
"When I saw that ball in the air my jaw kinda dropped," Haney said. "I thought [a Wolverine] was gonna catch it. After it hit the ground, it was just a huge sigh of relief came over me. So that was awesome."
Starr's Mill improves its record to 2-1 with their second consecutive win. Their next opponent will be Sandy Creek as the Panthers return home for the contest. Sandy Creek is currently 1-1 with a 28-24 victory over Northgate and a 28-6 loss to Newnan. After this game, the Panthers will have their bye week and play the first region game at home versus Harris County.
Their next game will be at Panther Stadium this Friday. Kickoff is set for 7:30 p.m.