Three-star recruit Cole Bishop decommits from Duke
Senior safety Cole Bishop has announced his decision to re-open recruitment opportunities, terminating his previous commitment with the Duke Blue Devils.
"After lots of thought, I have decided that I want to play safety at the next level," he stated in a post on Twitter. He then thanked Duke for helping him through the recruiting process and wished them the best.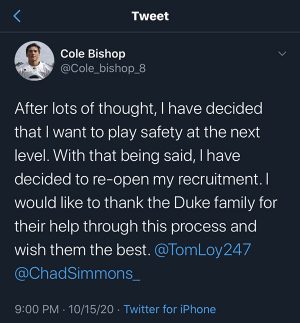 Bishop is widely known for his contributions to the Panthers' iconic secondary at the safety position, which nabbed him a spot on the AAAAA first team All-State team last season. His physical talents as well as has game sense have made him a noteworthy player among the team and to colleges across the nation. Several Division I colleges, including some Power Five schools, sent offers his way prior to his commitment to Duke on March 6 earlier this year.
Five weeks into the year, Bishop already has already made big plays through the season, including an interception and a tackle for a safety. He also has made solid contributions on the offensive side of the ball as a blocker and receiver. Overall, the defense has only allowed 10.4 points per game so far, and the defense has kept opposing passing games to 93.8 passing yards per game.
For Bishop, the three-star recruit is back on the market. He already has offers from schools like Georgia Tech, Michigan State, Appalachian State, Boston College, and more that give him several good options to choose from.
Starr's Mill is coming off of their first region game of the year, in which they defeated Harris County 14-10. Now 4-1, the team is gearing up to travel to Newnan to play the Northgate Vikings Friday night. Kickoff is set for 7:30 p.m.