That's so offensive!
Panther offense has best game yet, defense posts another shutout
Coming off of a strong 21-0 shutout last week over Griffin, Panther football's next test would be in a mirror match against the Whitewater Wildcats. Like the Panthers, Whitewater runs the Wing T and has had a fair amount of success with two blowout wins against Northside Columbus and McIntosh, and narrowly losing to Griffin.
Throughout the entire season, the Starr's Mill offense has been struggling to make substantial production in a game. That is until now. They pushed each other, and despite a sloppy start, they put on a show on offense with their best game this season. Combined with the defense putting together a third consecutive shutout, the Panthers took their seventh straight win by a score of 42-0.
"
We have a lot of guys who know their role and don't care who gets the credit."
— senior Jonathan Higle
In a breakout game the team was looking for, the entire offense controlled nearly 25 minutes on game time and racked up 460 yards. Sophomore quarterback Will Yarbrough made big plays with 149 total yards, a passing touchdown, and a rushing touchdown. Sophomore running back Greigh Joseph had another great game with five rushes for 106 yards and a touchdown. However, the offense did have five fumbles, two of which were lost.
On the flipside, Whitewater was held to zero points and only 90 total yards of offense. Their quarterback, freshman Eric Brown, went three-for-ten passing for 36 yards and threw an interception. Leading the way in offensive production was junior Dalton Bonner with eight rushes for 22 yards. Whitewater only converted three of 12 third downs and never sniffed the red zone.
"We have a veteran group. We have a lot of guys who know their role and don't care who gets the credit," senior cornerback Jonathan Higle said. "The coaches do a good job of teaching us our role, and then we get in there … everybody does their job, the whole defense benefits from it."
Opening the game, the Panther defense put together a quick three and out. Quickly on offense, Starr's Mill faced a fourth and one situation. That was when senior captain Cole Bishop turned on the jets for a 59-yard rush down to the Whitewater four-yard line. Senior Devin Barnett capitalized two plays later with a quick two-yard rushing touchdown to give the Panthers a 7-0 lead.
After the Wildcats went through another three and out, Joseph lost the football to give the ball back to Whitewater for another shot. The next few drives were back-to-back-to-back three and outs. There was no further production from either team as the first quarter came to a close with the Panthers up 7-0.
A punt from Whitewater senior Brennen Schmitt backed the Panthers up to their own two-yard line. On second down, Joseph found an opportunity to speed his way across the entire field for a 98-yard touchdown. Just like that, Starr's Mill held a 14-0 lead.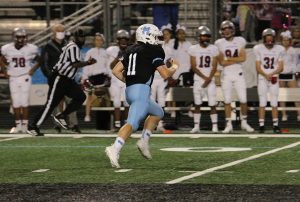 "With the backfield being younger we know as an offensive line, all seniors starting [at offensive line] basically, we know that we need to step up," senior offensive lineman Vee Holcomb said. "Just know that we got to step up and help the backfield out because they're going to mess up because they're younger. But they're doing a great job back there, and we're doing good as a team right now."
Following a five-minute Whitewater drive that resulted in nothing, the Panther offense began to drive down the field. On third and four, senior captain Wes Haney took a handoff and swerved his way for a 12-yard touchdown. The Panthers were now up 21-0.
Two plays into Whitewater's next drive, Brown tossed the ball straight into the hands of senior cornerback Nate Kearns, who took the ball downfield for a 33-yard return. 
A few plays later within the Whitewater ten-yard line, the snapped football fell through Yarbrough's fingers. He picked the ball up and began scrambling to his right and, as he was being taken down by a Wildcat defender, passed the ball into the hands of junior Marc Stampley. Juggling the pass, they fell in the end zone holding onto the ball. As time waned in the half, the Panthers extended their lead to 28-0.
"We just got to keep shoving, keep pushing [our young offense]," head coach Chad Phillips said. "That's kind of our mantra right now: we got to keep grinding… At the end of the day are we getting closer to our goal? So when we walk off the practice field we want to be closer so we want to be better… Sooner or later we're going to really start rolling in a little bit."
In the third quarter, Yarbrough threw a pass downfield to sophomore tight end Josh Phifer for a 25-yard gain into Whitewater territory. Yarbrough followed up with a rushing attempt of his own, going 39 yards to the house for a touchdown. With that, the Panthers were up 35-0.
Once Starr's Mill got the ball back, they started putting in some backups here and there. This gave freshman Dorsey Benefield the opportunity to go the distance for a 31-yard rushing touchdown to extend the Panthers' lead 42-0.
Following that touchdown, all Starr's Mill starters on both sides were pulled from the game, making way for the team's backups and junior varsity players. Even then, the Wildcats could get nothing started, being kept behind the sticks by the Panthers without a single starter on the field.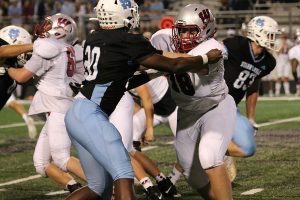 "It's definitely good to shutout that team, a cross-county rival," Higle said. "Anytime you can hold the other team to two first downs in the first half and hold them to the yards that we did, it's always motivational. It always keeps your confidence high."
A running clock was enacted going into the fourth quarter according to mercy rule. Starr's Mill took control of the entire quarter to run away with the game, with both another shutout and the most explosive game on offense yet. As the clock ticked down, the Panthers celebrated their 42-0 victory.
Now Starr's Mill increases their win streak in improving their record to 7-1 and remaining undefeated in region play. Coming into that game Whitewater had a 2-1 region record, and were touted by the AJC to give the Panthers a run for their money. Now at 2-2, albeit better than expected, they sit fourth in the region and have to show up against Northgate and away at Harris County to punch their ticket into the playoffs.
As for the Panthers, they control their own destiny at this point, only having to win one more game to take the 2-AAAAA region title. They will travel to McIntosh this Friday to seal the deal and earn home field advantage in the state playoffs. This era of Panther football is closing in on several records in the coming weeks. This includes a fifth consecutive region championship, back-to-back ten win seasons, and most wins in a four-year span.
"I told [the team] today, I looked at the history books, and I think we are four wins away from tying all-time wins in a four year period that was set in 1999-2002," Phillips said. "You [as a coach] just try to make each team try to put their stamp in the history books and that's kind of what we do, and kids respond to stuff like that. They want to come back years from now and be a part of something special."
McIntosh is coming into this game with an 0-8 record, 0-4 in region, and being outscored 153-60 in region play. As Starr's Mill heads to McIntosh looking for a region title, the Chiefs will be searching for their first win of the season. The Battle of the Bubble will take place this Friday at McIntosh High School. Kickoff is set for 7:30 p.m.