Basketball adjusting to new COVID regulations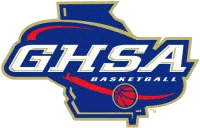 There have been many changes to sport procedures throughout Georgia due to COVID-19 this year, and the upcoming basketball season is no exception. 
As high school athletes navigate this unusual year with their teams, more health rules and issues develop. The Department of Public Health has put several COVID-19 procedures in place for this basketball season.
"I think some of [the rules] are a little interesting.  I don't really understand why we're not doing a jump ball if the girls are going to play the rest of the game together," girls' basketball head coach Emily Sweeney said. "It doesn't make sense to me but I guess it's just so [the officials] can say 'Hey, we put these precautions in'."
Each game will not begin with a jump ball. Instead, the ball will be awarded to the visiting team to start the game. When starting an overtime period use a coin toss to determine which team is awarded the ball.
During the pre- and post-game ceremonies, attendees to the referees and coaches will be limited and any handshakes prior and following the pregame conference will be suspended.
When it comes to the team benches, social distancing guidelines should be followed. Team benches will be separated from the spectator seating and those seated at the team benches are expected to be spread apart.
Boys basketball coach Joshua Sweeny also added, "The most disheartening thing about [these new rules] is just you try to follow them as best you can and hope nothing happens," boys' basketball head coach Josh Reeves said. "Anytime somebody says 'Oh, I'm not feeling well,' you're just kinda like, 'Go home'."
The Panther Pit will have to adhere to these rules in their first home game against the Northside Columbus Patriots on Dec. 5. The girls team will tip off at 6 p.m., and the boys will tip off at 7:30 p.m.