Panthers stay strong, defeat St. Pius 3-1
After a 1-0 win against Walton, Starr's Mill boys varsity soccer continued its winning ways with a 3-1 win over St. Pius Tuesday night.
"
Everyone contributed, which was really my favorite part of the game."
— head coach Aaron Buck
"We played subs and we played some people," boys varsity head coach Aaron Buck said. "Everybody contributed, which was really my favorite part of the game … Everybody got involved somehow, someway."
Sophomore midfielder Ali Othman, sophomore forward Ricardo Leacock, and senior Brooklyn Muccillo scored for Starr's Mill. Senior defender Connor Marke, midfielder and defender Jacobo Velez, and sophomore Camilo Velez were credited with assists.
Senior midfielder Matthew Biando scored St. Pius' lone goal of the game.
"We go back, we watch the film, we talk about things in training," Buck said. "If we can get just one percent better every day it's going to be great."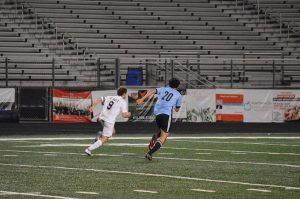 After a goal in the 6th minute by Biando, the Lions maintained possession of the ball until Starr's Mill started pushing back, increasing the pace. Othman eventually tied the game in the 17th minute off of a pass from Marke. 
The game settled until the final minute of the first half when junior Ricardo Leacock scored, putting Starr's Mill up 2-1. Jacobo Velez was credited with the assist.
"It's good to play a good side like this," senior goalkeeper Andrew Cole said. "Playing other bad teams is just not getting us ready for other big games like McIntosh."
St. Pius switched keepers to begin the second half. However, Starr's Mill maintained offensive pressure. Muccillo scored Starr's Mill's third goal with an assist from Camilo Velez.
Cole held firm in the box for the Panthers, leaving St. Pius with little chance to score and overcome the two-goal deficit. 
"So far everyone is bought in and I think we're looking good for the rest of the season," Muccillo said.
Starr's Mill followed up Tuesday night's win with a 6-0 victory over Houston County last night. The Panthers return to the pitch on Feb. 23 when they travel to Marist.