Cheer earns GCCA Team of the Year honors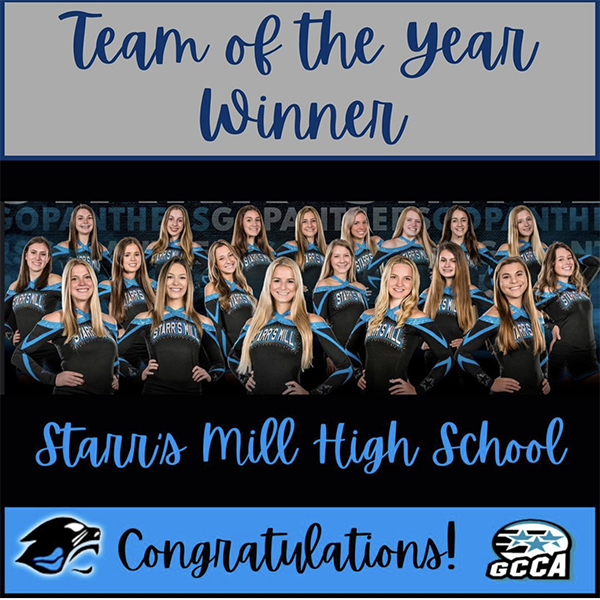 For the first time in school history, the Starr's Mill High School cheer team has won Team of the Year in the state of Georgia. 
The Georgia Cheerleading Coaches Association has voted Starr's Mill as the winner of the title, after considering several other nominations from across the state. The Starr's Mill team was chosen after being assessed for their skill in the sport, voluntary service in the community, and overall character presented by the team. 
"We are very fortunate to consistently have a group of very successful girls who enjoy participating in the community," assistant coach Kristie Hayward said.
The team was anonymously nominated for the chance to win the title prior to Christmas break. After being nominated, coach Mandy Ratliff submitted letters of appraisal from members of the community, and essays pertaining to the cheerleaders' accomplishments. 
Once Starr's Mill passed the nomination round, the team created and submitted a video summarizing the team's skill in cheer. Individual and team community service demonstrated throughout the school year was also included.  
"It was a unanimous decision amongst the committee and they selected Starr's Mill as the Team of the Year," Hayward said.
Volunteer efforts outside school was a major consideration for Team of the Year. Team projects such as the cheer team's creation of a little free library beside the school were included in submissions to the GCCA. Now that the title is won, the cheer team will perform and receive their awards in mid-March. 
"The girls will go to Jekyll Island in a couple of weeks, and they'll do a little performance for all the coaches in Georgia, and then they'll get their medals and their plaques," coach Ratliff said. 
The cheer team placed second overall in this year's AAAAA GHSA state cheer competition.