‌'Reality‌ ‌check'‌
Girls lacrosse team falters against West Forsyth
Establishing a baseline is important for a team to find success — to know where they are and where they need to go. The Starr's Mill girls' lacrosse team found their baseline last Saturday in a 13-5 loss to West Forsyth.
Even if they lost, the girls found some positives. Junior Emma Grace Hepler scored four goals, senior Lexi Santiago caused four turnovers and scored a goal, and senior goalie Kaitlyn Donovan had 11 saves.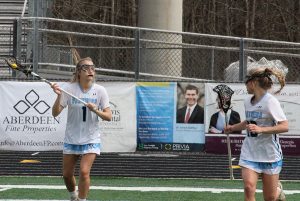 That said, the Lady Panthers struggled to keep up with the tempo set by the Lady Wolverines.
"I think we just weren't really ready for [a game like this] yet," Hepler said. "That was our first really good game of the year, and that just shows [in] how we played today."
West Forsyth junior Jenna Burrow and senior Madison Houlberg both recorded hat tricks. They put pressure on Starr's Mill, keeping them in their territory for most of the game and capitalizing off of turnovers. 
Despite being able to break away a couple times, the Lady Panthers could not sustain any momentum for long.
"It was kind of like a slap in the face, like a reality check," senior Carlee Mullins said. "That's what we need to be playing to make it to the state championship again. So I think it was good that we at least got that [game] in."
This was only the second game Starr's Mill has played this season. Their first game was against a lackluster Trinity team. West Forsyth played at a faster pace than the Lady Panthers were accustomed to, especially since they are recovering from a lost season last year.
"It's a new dynamic of team," head coach Mary Lehman said. "Every year it is, because obviously you have the previous seniors graduating. This year, in fact, half of our team are juniors, so it's a very huge amount of juniors that are having to step up and take some leadership in addition to the seniors that we have."
The Lady Panthers get their first loss of the season and move into this next week with a 1-1 record. They started the week with a 19-0 win against Luella. They will hit the road to play against the Whitewater Lady Wildcats tonight at 5:30 p.m.