An error has occurred
Baseball team makes uncharacteristic mistakes en route to first region loss
Following an exciting comeback win over Whitewater the day prior, Starr's Mill hoped to build off that momentum as they hit the road last Friday to play the McIntosh Chiefs. Instead of building on the momentum, the Panthers struggled in a 6-2 loss, their first in region play.
Starr's Mill recorded three errors on top of several routine mistakes. While both teams recorded seven hits, McIntosh took advantage of sloppiness from the Panthers to maximize the opportunities that they were given. The Chiefs themselves were consistent in keeping the Panthers' powerful hitting group silent throughout the day.
"
We got to be able to throw and hit, and we can't do that right now."
— head coach Brent Moseley
"We got to be able to make routine plays," head coach Brent Moseley said. "We got to be able to throw and hit, and we can't do that right now."
In the first inning, Starr's Mill could not get two runners on base home while McIntosh senior third baseman Blake Summer stole his way to third base, and was brought home by senior right fielder Evan Gillanders. After one inning the Chiefs were up 1-0.
Nothing came from the Panthers' in the top of the second, while McIntosh found another run in the bottom of the inning to go up 2-0. Starr's Mill struck back in the third with RBIs from senior pitcher Daniel Courtney and senior right fielder Chay Yeager. They kept McIntosh quiet in the bottom of the second to keep the score 2-2 heading into the fourth inning.
Both teams remained silent in the fourth inning. In the fifth inning, despite getting a runner to third base, the Panthers could not finish the job, ending the top of the fourth scoreless. Chiefs' senior designated hitter Glenn Schmidt brought in another run for McIntosh to go up 3-2.
"No matter who's on the mound, you need somebody behind you," senior pitcher Declan Dun said. "No guy is going to be able to go out there and strike out everybody they face, so you need your defense to be able to have your back, and we just haven't been doing that this year."
At the top of the sixth, the Panthers were starting to scrap some momentum. McIntosh made the decision to make a pitching change in favor of Gillanders to close the game. Gillanders closed out the top of the sixth with a quick strikeout, negating any momentum the Panthers may have had.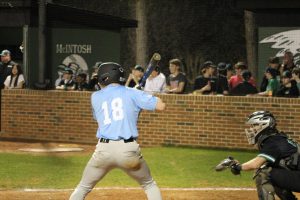 Dun was brought out to try and close the game after two runners were put on base via walk. His first pitch hit the opposing batter, and the next batter walked again. No hits and the Chiefs already widened their lead 4-2.
Chiefs senior catcher Joe Pressel got a base hit, one thing led to another, and chaos and confusion ensued with the Panther fielders. They ended up tagging one runner out while another reached home plate for another run. Senior first baseman Connor Soper hit a ground out, but not before another McIntosh runner made it home to end the sixth inning for the Chiefs up 6-2.
"We hit a lot of balls hard, [but] none of them dropped at all," Yeager said. "We kept throwing them up straight to them, first inning through the seventh inning. Nothing was really going our way. A few bad calls, but I mean that's baseball. It went both ways."
A difficult comeback was required for the Panthers to stay in it, but it never came. Gillanders recorded a three-up three-down, striking out Courtney to give Starr's Mill their first region loss 6-2.
The Panthers now fall to 4-1 in region play. Their next two games will be crucial in deciding their standing in the region, especially against Northside-Columbus. That game was rained out and will be made up at a later time.
Starr's Mill travels to Harris County tomorrow for a rematch against the Tigers. The Panthers won the previous game 5-1. The Panthers host another rematch Friday night when they play the Northgate. Starr's Mill previously defeated the Vikings at Valhalla 5-1. First pitch is set for 7 p.m