Stellar pitching, pair of HRs help Panthers defeat Chiefs
Riding a four-game win streak, the Starr's Mill varsity baseball team battled McIntosh for the top seed in the region Tuesday night. Thanks to great hitting early in the game and a solid effort on the mound from senior Chay Yeager, the Panthers earned some redemption and a little cushion in the region standings winning 4-2.
Yeager pitched a complete game allowing just six hits and one walk, while striking out 10 batters. McIntosh senior Brad Grasser recorded three strikeouts and walked three batters, but gave up two home runs early in the game.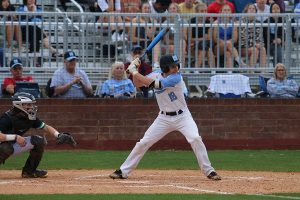 "Their pitcher was settled in and they did a good job later," Starr's Mill head coach Brent Moseley said, "Chay basically dominated the game for us."
Yeager struck out all three McIntosh batters in the top of the first. Starr's Mill then jumped out to a 2-0 lead when senior Daniel Courtney hit a two-run home run after senior Thad Ector's lead-off single. 
An RBI single from junior Josh Tate extended the lead for Starr's Mill. After one, the Panthers were up 3-0.
"We just got to keep it together and playing strong," Yeager said, "We worked on two strike-swings and just putting the ball in play as much as we can."
Senior Blake Summers helped the Chiefs narrow the margin in the top of the second. Fellow senior Conner Soper started the inning with a single and then moved to second on a passed ball. Soper scored when Summers bunted and the pick-off throw to third sailed high. 
Starr's Mill wasted no time increasing the lead in the bottom of the second. After a strikeout and flyout by freshman Heath Whitlock and junior Ben Moseley in the bottom of the order, Ector hit a solo homerun. The Panthers would go on to strand three runners but held a 4-1 lead after two innings.
"I think it helps us a lot in the way that knowing that on any given day we can come out here and beat anybody and just play to the best of our abilities," Courtney said.
McIntosh did manage another run in the top of third courtesy of junior Joe Glozier's RBI-bunt. From that point on, neither pitcher would face more than four batters in an inning.
The top of the 6th inning was the biggest threat for Yeager. He looked to be in trouble when McIntosh started with a single and a double. However, a stumble by the pinch runner rounding third base and some great fielding ending with an out at home plate, prevented the Chiefs from gaining any momentum. 
Solid hitting early, Yeager's performance on the mound, and great fielding sealed the win for Starr's Mill, 4-2.
"It makes me a lot more confident to throw the ball down the plate so that we can make plays," Yeager said.
 To round out the week, Starr's Mill baseball hosts a pair of region games. They play Northside Columbus on Thursday at 5:30 p.m. on Thursday and Harris County on Friday at 6 p.m.