Clean sweep
Panther baseball swiftly sweeps Tri-Cities in first round
Starr's Mill baseball began their state playoff run yesterday against the Tri-Cities Bulldogs. The Panthers steamrolled through both games, winning 12-0 in five innings and 15-0 in four innings.
Hitting paved the way for a good night with the Panthers racking up 20 hits en route to recording 27 runs. Seniors Chay Yeager and Daniel Courtney started for the Panthers in games one and two, respectively. Yeager threw seven strikeouts in four innings and Courtney threw six strikeouts in three innings.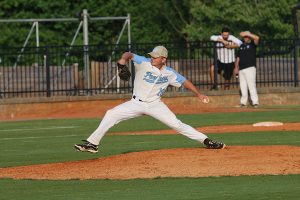 "We want to make it to state," freshman Heath Whitlock said. "That's the only thing on our mind."
Scoring started early in game one with Yeager hitting a fly ball to centerfield that brought home senior Thad Ector. Senior Eli Jones followed suit with another flyball to bring home Yeager. Jones stole third and scored off of a wild pitch. One inning down and the Panthers already had a 3-0 lead.
A nice bunt by Jones in the third inning loaded the bases, and Courtney walked to bring in a run. Senior Ryder Wagenknecht hit in three more runs after that. A sacrifice fly by Ector brought in freshman Heath Whitlock. Starr's Mill ended up scoring seven runs off of four hits, and went up 10-0 after three innings.
Whitlock hit a triple to bat in another run, and scored after an error from Tri-Cities. At the top of the fifth, senior Bryson Daniel closed out the game with three strikeouts. One game down, and the Panthers won 12-0 by mercy rule to go up 1-0.
"The boys came out and did what they were supposed to do," assistant coach Taylor Sweeney said. "It ain't rocket science. [We] just come out and do the little things we know we need to do to win, and we did it."
Ector led off game two at the top of the first with a home run to right centerfield. Freshman Austin Killingsworth scored off of a wild pitch, and Whitlock batted in two more runs to go up 4-0 after the top of the first. Despite giving up a hit, junior Josh Tate pulled off a 6-3 double play to keep the score the same.
Tate proceeded to bat in junior Ben Moseley and Jones kept the momentum up by batting in Killingsworth and Tate to extend the Panther lead to 7-0. In the top of the fourth, White batted in two runs, Whitlock batted in another, and Wagenknecht.
Later in the inning, the Panthers loaded the bases. A walk brought in one run, and a hit by pitch brought in another. Courtney hit a single to bring in one more run and lock the team at 15 runs. Senior Declan Dun relieved for Courtney, and two 6-3 groundouts and a strikeout closed the game. The Panthers won 15-0, and took the series 2-0.
"I think in a series like this where you're winning big in both games it's hard to get energy," Courtney said. "But I think next week when we play either Coffee or Locust Grove, we're going to have to have energy the whole time."
The Panthers will proceed to the second round and play the winner of Coffee and Locust Grove, who will play game three of their series tonight. Starr's Mill will host the winner of that game on May 3. Start time to be determined.