Starr's Mill sends Wolves packin' for third straight year
For the third year in a row the Starr's Mill girls lacrosse team hosted the Wesleyan Wolves in the state quarterfinals. The result was the same as the past, as the Lady Panthers advanced to the semi-finals with a 16-10 win.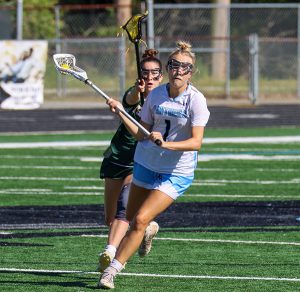 Senior Jessica Deluca led the Panthers with five goals and two draw controls. Junior Emma Grace Hepler added three goals and four assists. Senior Jacqueline Broderick and junior Hannah Leon each added three goals. Senior Lauren Flanders and junior Briley Kalen also scored.
Junior Anna Rae Copeland challenged the Panther defense scoring five of the 10 goals for Wesleyan. 
"Tonight's win means a lot because we really had to fight for it," senior Lexi Santiago said. "Nothing came easy."
The first half was slow to start. It took the Panthers over 10 minutes to strike, as Leon tied the game 1-1 at 14:30. Wesleyan and Starr's Mill traded goals back and forth until Broderick, Deluca, and Kalen scored three consecutive goals to push the Panthers in front 8-5 at the half. 
"Switching up things on the field, working hard, and giving a hundred percent [helped pick up the speed in the second half]," Santiago said. 
Wesleyan came out strong in the second half, scoring two quick goals. Right after, Leon and Hepler each responded with goals of their own. After another Wesleyan run, DeLuca scored three of the team's final  six goals to put the game out of reach.
"The [team is] going to have to practice as if they are actually in game time," head coach Mary Lehman said. "We are going to have to work on being more prepared."
With the 16-10 quarterfinal win, the Lady Panthers advance to the state semifinals. They will host Northview from Johns Creek on May 11 at 7 p.m. This is the third straight semifinal appearance for the Lady Panthers.