Starr's Mill loses to Whitewater 6-1 after tense 3rd inning, lightning delay
After a 12-4 victory over McIntosh Tuesday night, the Starr's Mill Panthers looked to stay undefeated to begin region play as they traveled to Whitewater. However, the Panthers struggled at the plate and the Wildcats capitalized, winning 6-1.
"That was a word we took from the start of the year, to be real humble after the year we had last year," head coach Peyton Dean said. "Sometimes it's good to get beat and bring you down a little bit."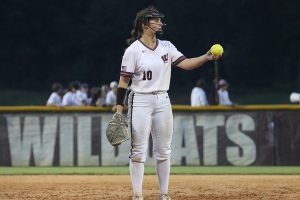 Senior centerfielder Sydney Blair started the game with a single. Some speedy baserunning gave the Panthers an early 1-0 lead. For the next two innings, it was a pitching battle between senior Lilli Backes and Whitewater's junior Makayla Coffield.
Heading into the third inning, Backes had struck out five straight batters, but then Whitewater's bats took over.
In an explosive third inning, the Wildcats started out with four straight singles, followed by a 2-RBI double and a 2-RBI single. In total, Backes gave up six hits and five runs in the inning. 
"We just need to stay calm and relaxed during tough spots," senior outfielder Sydney Blair said. "I feel like sometimes we make an error and it just keeps snowballing."
Only Blair, senior third baseman Sarah Latham, and Sikes managed hits against Coffield. On the night, Coffield surrendered three hits and one run along with striking out seven Panther batters.
Backes and the Panthers would give up one more run in the bottom of the fourth inning. 
As the Panthers continued to battle Whitewater to gain some traction, a nearby lightning storm took over and brought the game to a halt in the bottom of the fifth inning. Despite eight strikeouts, Backes gave up six runs on nine hits as the Wildcats defeated the Panthers 6-1 to take an early lead in the region standings.
"It's definitely a learning experience though, having the whole new coach and everything, but we're liking [Dean]," senior catcher Ashley Sikes said.
Starr's Mill hosts region opponent Northgate on Tuesday at 5 p.m.