Panther run game stuns Pirates in 30-15 victory
Thursday night, the JV football team stayed true to Panther football — run the ball. 
"We came out, we did our job, played disciplined football, played responsible on defense and offense," head coach Zach Mann said.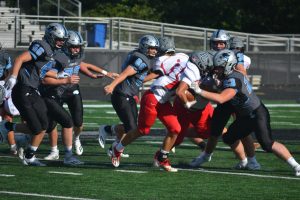 The result was a 30-15 Starr's Mill win over Pike County.
Freshman Josh Layton led the team in rushing with one rushing touchdown and another huge run where he was stopped at the 1-yard line.  
The Panthers jumped to an early lead in the first quarter after Layton's touchdown run. The defense held Pike scoreless in the first. 
"I followed my blocks well and ran hard," Layton said. 
The Panther defense punished Pike early in the second quarter highlighted by sophomore Carson Schmidlkofer forcing a fumble. 
Starr's Mill continued to establish the run with yet another rushing touchdown by sophomore Dorsey Benefield. 
At the half, the Panthers led 14-0. 
Pike began the second half with an unsuccessful onside kick to give the Panthers the ball in good field position. However, Starr's Mill was unable to capitalize and was forced to punt the ball. Special teams then showed their might by pinning the Pirates at the 1-yard line.
The Panther defense capitalized off of the punt and stuffed Pike's running back in the end zone for a safety. The Panthers regained possession and completed a deep pass to freshman Lincoln Delare to put them in the red zone. The following play the Panthers rushed in for yet another rushing touchdown by freshman Logan Inagawa to make the score 23-0.
Defense stepped up again on the next Pike possession.  Then it was back to the run game. Layton broke free but was tackled just shy of his second rushing touchdown of the game. Freshman Marcus Uhland punched it in to extend the Starr's Mill lead to 30-0.
"We can always get better," Mann said. "We can go home, watch film, see what we did wrong, see what we did right."
Pike began to step up in the fourth quarter, scoring two touchdowns early and converting a 2-point conversion. However, the Pirates last ditch effort was not enough to bring home the win. The Panthers retained the lead and won the game 30-15.
On September 22, the Panthers travel to Whitewater for their next JV matchup at 5:30 p.m.