9th grade volleyball team sweeps pair of opponents, finishes season strong
The 9th grade volleyball team ended their season on a high note, winning matches against Houston County and Spalding County in straight sets. Communication was great, along with hitting, serving, and teamwork. 
"They've really come together as a team, and each individual girl's skills have really grown," head coach Taran Swanson said. "They each had goals they worked on, and they've worked really hard to meet those goals."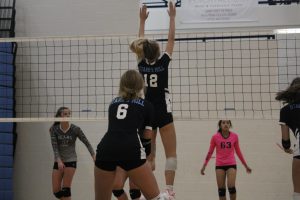 The Panthers started their first match against Houston County strong with a good lead due to multiple volleys that the Panthers won. Outside hitter Allie Thomas had many great kills. The girls used communication and teamwork to keep their lead through the whole set. The Panthers took the first set 25-15. 
The second set started with the Panthers in the lead due to Houston's mistakes. Throughout the set the girls' hitting power and teamwork stayed strong. Right side hitter Shannon Callaghan worked well with outside hitter Kali McQuade and middle blocker Quinn Myers in blocking, and outside hitter Ella Strickland and Thomas kept the ball in the air with some good saves. The Panthers again led the whole set, which ended 25-8. 
"I think I've improved a lot, because I've gotten a lot more consistent," Callaghan said. "[Go] to the gym and [do] the work, the reps, and [keep focusing] on your movements and the ball." 
Just like the first match, the Lady Panthers played a strong game against Spalding County. They kept up good communication, hitting, serving, and impressed with numerous kills. They started and ended the game in a strong lead, and won in two sets. 
The Panthers dominated the entire first set, winning 25-1.
To start the second set, the girls jumped out to a 7-1 lead due to some good hits and mistakes on Spalding's part. Thomas, Srtickland, and McQuade assisted one another with great passing, hitting, and serving. All together, the ladies' teamwork and communication remained strong, and they stayed in the lead the whole match. The Panthers won their last set of the season 25-7. 
"It's sad," Strickland said. "I'm going to miss the team, and I'm going to miss playing with the girls."