Cross country prepares for region meet
Both Cross country teams had one final race before the region championships. Last weekend at the Coach Wood Invitational in Whitesburg, Georgia. The girls finished 5th in the varsity division and the boys finished 22nd in the championship division.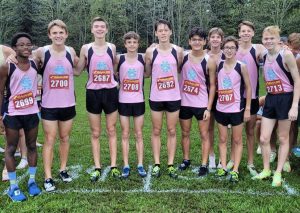 Freshman Gabriella Roach was the highest finisher on the girls' team, placing 32nd with a time of 21 minutes, 14.63 seconds. Sophomore Kate Hamilton finished 43rd with a time of 21.39.35, and senior Blakeley Wingo finished 48th with a time of 21.45.71. 
For the boys, senior Garrett Jones finished 54th with a time of 16 minutes, 28.15 seconds, the highest Starr's Mill finisher. Junior Denver Oates completed the 5K event with a time of 17.04.82 placing 114th, and junior Nat Miller with a time of 17.16.31 placing 131th. 
"We are fortunate that region is on our home course," head coach Kelly Rock said.  "We can practice on it."
Starr's Mill hosts the Region 2-AAAA championship tomorrow morning at One Church in Fayetteville. The varsity boys race begins at 9:30 a.m. followed by the varsity girls at 10 a.m.