Calhoun Lady Yellow Jackets capitalize in 3rd quarter, defeat Starr's Mill 46-33
Despite a close battle throughout the first half, the Calhoun Lady Yellow Jackets held the Lady Panthers scoreless in the third quarter en route to a 46-33 win in the Starr's Mill Tip-off Classic by Adidas.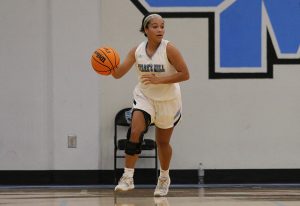 "We have a young team," head coach Emily Sweeney said. "We're just taking it day by day, trying to make sure everybody knows what to do."
Sophomore Brooke Godown led the Lady Panthers with 12 points, while senior Jaclyn Hester contributed 10 points. 
Calhoun's junior Britiya Curtis led all scorers with 17 points. Other high scorers for the Lady Yellow Jackets included freshman Kat Atha and junior Aryian Berner, both with eight points each. 
In an aggressive first quarter, the Lady Panthers stayed close to the Lady Yellow Jackets, tying up the score multiple times. They were unable to capitalize over the other team and ended the first quarter 17-12 with Calhoun in the lead. 
"That's going to be a big part of our whole dynamic," Godown said. "Making stuff happen, working the ball around, [and] looking for the open shot and not forcing things."
Calhoun stayed in the lead thanks to a sloppy start to the second quarter for the Lady Panthers. Starr's Mill managed to recover and ended the second quarter with a close score of 28-25 in favor of the Lady Yellow Jackets.
Calhoun held Starr's Mill scoreless throughout the entire third quarter. Godown ended the drought nearly two minutes into the final quarter of play. By that time, the Lady Panthers could not catch up. The game ended 46-33 in favor of the visiting Lady Yellow Jackets.
"I think we were just out of breath in the second half," senior Carrie Consolino said. "We didn't know how to transition and work as a team again."
The Lady Panthers travel to Heard County on November 18. The team's next home game is scheduled for December 3 at 6 p.m.