JV girls capitalize on strong 3rd quarter, defeat McIntosh 32-14
Starr's Mill applied pressure to the McIntosh Lady Chiefs right from the start of Tuesday night's game and never let up. The Lady Panthers led the entire game and won 32-14. 
"The pressure set the tone that we were here to press them and make sure they had the ball handling skills," head coach Peyton Dean said.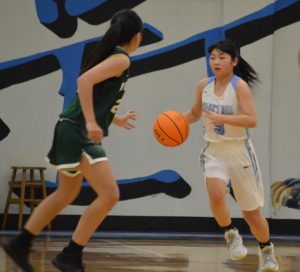 Sophomore Momo Suga led the team with nine points. Other top scorers included freshmen Kali McQuade with eight points and Gabby Roach with seven points. Sophomore Nono Arakawa added six points.
"I practiced over Thanksgiving break and shot around a lot and practiced during my free time," McQuade said.
Roach helped Starr's Mill take the early lead with a 3-pointer to begin the game. Heavy defensive pressure by the Lady Panthers kept the score low with Starr's Mill holding a 7-6 lead after the first quarter.
The same tempo and pressure continued into the second quarter. McIntosh struggled to maintain possession and missed several shots. Starr's Mill held the Lady Chiefs scoreless in the quarter but only increased the lead to 11-6 at the half.
"We were told [at halftime] that we could play better than we were doing, and [coach] gave us a lot of tips," Roach said.
Scoring and pace increased in the third quarter as Starr's Mill took control of the game. The Lady Panthers outscored McIntosh 16-4 in the quarter and took a 27-10 lead into the fourth.
With a comfortable lead, the Lady Panthers eased off the pressure in the final quarter. McIntosh upped their tempo, but still struggled to score. The game ended in a 32-14 win for Starr's Mill.
"We have to get better so as soon as we call a play we get into that versus practice when you have time to think about it," Dean said. 
The team travels to Northside Columbus for an 11:30 a.m. tip-off on December 4.