McIntosh defeats Starr's Mill in fast-paced, physical game
After an aggressive and physical game, the 9th grade boys basketball team suffered its first loss of the season to McIntosh 45-32.
"Every time we play, if the other team plays harder than you, then we have a problem," head coach Taylor Sweeney said. "We've got to match their intensity, if not beat it."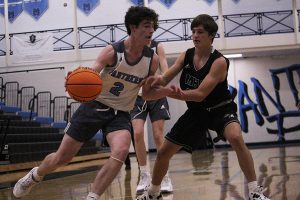 Scott Stevens led the Panthers with 11 points. Other top scoring players included William Robinson and Johnny Tucker, scoring 8 points and 5 points, respectively.
"We're good at working the ball around and fighting for each other, but we need to work on conditioning and sprinting back for defense," Stevens said.
Both teams started fast. Within the first minute, the teams both scored one three-pointer each. The pace remained the same throughout the quarter and ended with both teams tied at eight.
Energy on the court was apparent as the ball moved from hoop to hoop in the second quarter. Aggressive play increased, and McIntosh pulled ahead to lead 27-16 at the half.
"We try to start ninth grade basketball with fundamentals," Sweeney said. "We got to find out what we're good at and get better at the stuff we're not so good at."
Scoring slowed down to begin the second half, but physical play continued. Neither team could gain a clear advantage in the third quarter, as the Chiefs held a 34-24 lead.
Starr's Mill pulled within five points midway through the final quarter of play, but the Chiefs quickly fought back, stretching the lead to 11 a couple minutes later. That would be all McIntosh would need as they defeated the Panthers 45-32.
"[We need to] push through in the game so we have energy in the fourth quarter," Stevens said.
The Panthers travel to McIntosh to face the Chiefs again on December 7. The game will begin at 6 p.m.