Northside dominates second half, defeats Lady Panthers 74-55
After struggling to score in the second and fourth quarters Friday night, the Lady Panthers lost to the Northside Lady Patriots 74-55.
"It's a work in progress," Godown said. "Three of our five starters are sophomores so [it's a] younger starting lineup. Hopefully we can finish off the season strong and work together."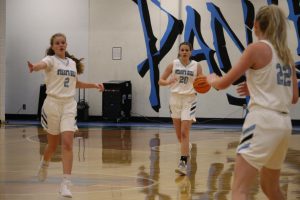 Leading scorers for the Starr's Mill Lady Panthers were senior Jacklyn Hester with 17 points and sophomore Brooke Godown with 16 points. Fellow sophomore Brooke Herdman contributed ten points.
Freshman McKayla Hosley led the Northside Patriots with 14 points. Other high scorers were senior Erica Rodriguz and sophomore Zariah Davis with 12 points each.
"Everyone is trying to do the best they can and get excited for the games," Hester said. "We don't have many [games] left, so I think everyone is trying to win and pull out as many [wins] as they can."
The Lady Panthers started out slow in the first quarter and struggled to gain a lead over Northside. 
The Patriots controlled much of the second. With only three free throws to start the Panthers off in the first six minutes, the team was unable to overcome the Patriots' ten-point lead. After a three-point basket by senior Anna Kirby that sparked the team back to life, the Lady Panthers ended the second quarter trailing by eight points.
Due to multiple three-point baskets by the Lady Patriots and continued slow play by the Lady Panthers, Northside increased their lead to as many as 30 and ended the third quarter up 57-36. 
The fourth quarter began much like the second quarter. Starr's Mill struggled on offense. 
It was not until the final two minutes of the game that the Lady Panthers were able to score a field goal. By then, the Lady Patriots had built a comfortable lead, winning 74-55.
Friday night's game began a long stretch of region games for the Lady Panthers who will play five games in eight days.
"If we can only play a certain amount of people in four days we are going to be worn out by the fourth game," head coach Emily Sweeney said. "So we're going to try and just pace it and hopefully take it one step at a time."
Starr's Mill traveled to McIntosh Saturday night and lost 48-33. The Lady Panthers are now 1-6 in region play and  host Griffin, currently the region's top seed, tonight at 6 p.m.