JV boys command the court in dominant 57-26 victory over Griffin
An early first half lead set in motion an unrelenting offensive attack that propelled the Panthers to a 57-26 victory over Griffin Tuesday night. 
"We played great, [and] we moved the ball really well," sophomore Rhenart Hernandez said. "We played as a team, energy was great, the bench was in it, and we won."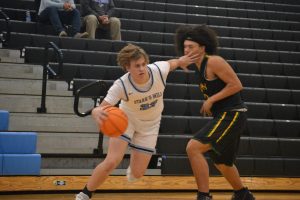 Hernandez led the team with 14 points, along with two rebounds and an assist. Other notable performances came at the hands of sophomore Russell Logan who recorded 11 points alongside three assists and two rebounds, and sophomore Max Prozny who put up eight points and three assists. 
After losing twice to Griffin earlier in the season, the Panther offense dominated early, putting up 15 points in the first quarter. The Panthers controlled the paint and shot well from beyond the arc in the early offensive surge. On the defensive side, the Panthers held Griffin to a mere eight points in the opening quarter. 
Starr's Mill had its worst performance defensively in the second quarter, allowing ten points. Despite the rough quarter defensively, the Panthers were able to retain the lead due to another great offensive performance. Scoring 13 points in the quarter, the Panthers continued to dominate offensively, leading 28-18 at the half. 
"We settled in as to who we are as a team," head coach Chase Penland said. "We played a lot better in the later half of the season, which is good to see."  
The beginning of the second half marked the start of a stifling defensive run by the Panthers. The Panthers defense only allowed eight total points in the second half, the bulk of it coming in the third quarter, when the Panthers allowed six of those points. The domination did not stop on the defensive side as the Panthers continued to pummel Griffin offensively scoring 14 points in the third quarter. 
The fourth quarter was the most dominant quarter on both sides on the ball with the Panthers outscoring the Bears 15-2. Defensively, the Panthers controlled the boards and dominated inside the paint, only allowing one basket the entire quarter. 
Repeating what they did in the first quarter, Starr's Mill put up 15 points in the final quarter, sealing Griffin's fate and securing the 57-26 victory. 
The Panthers travel to Harris County on February 1 for their final game of the season at 4:30 p.m.